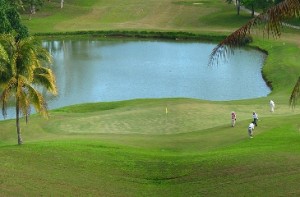 When one is on vacation, one of the expectations one is expect to get out of the holiday memory is a sense of tranquility and perhaps, peace of mind. If you are looking for such tranquility during your vacation, the Shan-Shui Golf & Country Club in Tawau will definitely be one of the places you must not miss when you are in Sabah.
The Shan-Shui Golf & Country Club is an award winning vacation spot. The credibility of the place will definitely guarantee the peace of mind you expect. One step in the place will make you feel as though you had just stepped into a place totally isolated from the big and busy city. Here, you will find no sign of buzz and business you would often find in the big city and this is definitely good news for individuals who wish to put their daily stress and pressure away temporarily at that moment of time.
The surrounding of the Shan-Shui Golf & Country Club is definitely breathtaking. Surrounded with mountains along with the frequent clear blue sky, it is a good place for individuals to relax themselves while they indulge in their favorite sports activities in the place. The well maintained 18 holes golf course will definitely meet the high expectations of both newbie and professional golfers. It is also said that the golf course is one of the finest golf course in Asia and thus, this is definitely a place which can guarantee you one of the best golfing services and experiences.
When you are indulging in your favorite sports, you would also find yourself looking at unique visitors who tend to peek at you when you are golfing. The club is also a habitat for many flora and fauna species in the country. Thus, do not be surprised to find rare bird species, or even monkeys standing beside you while you play.
The facilities and services in the Shan-Shui Golf & Country Club is also one of the best in the area, which equip almost everything a golfer or even a visitor need from the place. After a satisfying game of golf, you can also choose to dip yourself in the swimming pool or the Jacuzzi prepared specially for you to wash away your tiredness. If you find yourself starving, you can even head on to the local restaurant and cafes in the club which will serve fresh and high quality local cuisines to ease the expectations of your picky taste buds. You can also choose to stay your night here in the club under the roof of accommodations with traditional and unique building structure all constructed under the local traditional concepts.
Recommended Area to Stay in Sabah:
Kota Kinabalu
From city's heritage exploration to islands escape, accommodation option in KK is countless.
Mount Kinabalu
For visitors looking to discover mother nature and access to the highest mountain in South East Asia.
Semporna
Gateway to the islands paradise (Mabul Island, Sipadan Island, Kapalai Island and more!).