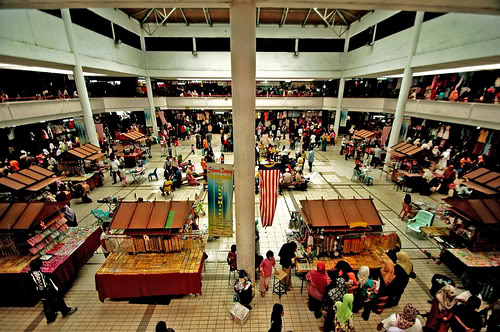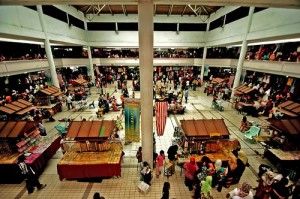 Apart from Wang Kelian, Padang Besar is another major shopping attraction to tourists in Perlis. Being a border town that merges Thailand and Malaysia, many tourists make a pit stop to this location before continuing their journey to Thailand. Locals that travel up to Thailand would make Padang Besar as part of their travel destination in Malaysia while being on shopping, business or leisure trips as it seems 'on the way'.
Known as 'Big Field' by direct translation, Padang Besar is located near to Songkhla Province, Thailand, which is 35 kilometres north east of Kangar and about 70 kilometres south west of Hatyai. Although there is another town next to Padang Besar which is in Thailand and also named Padang Besar, majority of the locals would call Padang Besar of Thailand as 'Pekan Siam' or 'Siamese Town' to avoid confusion.
Padang Besar is also a stopover along the rail route between Thailand, Malaysia and Singapore, which is administered by Thai authorities at one end and Malaysians at the other. Although manned by different authorities, it is rather difficult to differentiate the border apart from the signboards, as both sides of the country are almost equivalent from a cultural point of view.
What attracts both locals and foreigners to Padang Besar is the amount of shopping that could be accomplished here. Not only that, the shopping here comes with a major advantage; they are relatively cheap and considered as bargains. For foreigners, this would be a good place to purchase souvenirs as Padang Besar offer various traditional items and artifacts that may fascinate the people they give the souvenirs to back at their home ground. Apart from that, there are numerous clothing stores at Padang Besar that provides an array of designs for the visitors.
Besides objects and items, Padang Besar offers a wide range of food stuffs that may appeal to both locals and foreigners. As for foreigners, they may find it intriguing to try 'dried mangoes' or the Malaysian style of crisps, which it is commonly called 'keropok' among the locals.
Another shopping-related attraction about Padang Besar is the duty-free shops available. Visitors may find goods that are not available in their usual stores but only in the duty-free shops, and definitely at a lower price considering the duty tax that is waived off.
Once visitors are satisfied with shopping, they can easily stop by any restaurants that are available at Padang Besar and have a taste of Malaysian cuisine before continuing their journey.