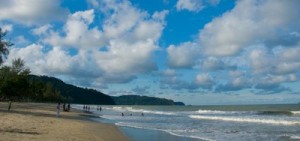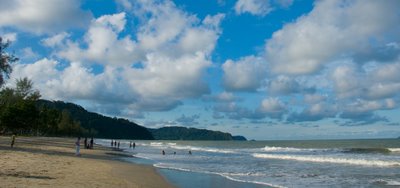 Located 12 km off Mersing and facing Pulau Setindan, the 'Pesta Air Papan' or Air Papan Festival is held annually on May 1st at the Air Papan Beach. The Air Papan Beach of Johor is a great place for family gatherings and team building. With the grey sands of the beach, you can sit back and enjoy nature as well as enjoy the local delights at the beach.
Looking out of the beach, you can see the misty silhouettes of islands ahead such as Rawa Island, Lang Tengah Island, Tioman Island and Besar Island. Every year, the Air Papan Festival never fails to attract a humungous number of tourists around the world. Children and adults alike are able to experience the truly Malaysian cultural performances at the festival. A fun fair is also set up for family enjoyment where you will get to enjoy the local food delicacies, play games at the game booths and even purchase crafts and souvenirs to take home as memories from the beach festival. Not only will the booths be available during festival season but also on usual days, rows of food outlets are at stand for day of indulgence.  Other activities like shopping can also be done on the beach, as there are stores that carry beachwear, accessories and many more for you to happily spend on.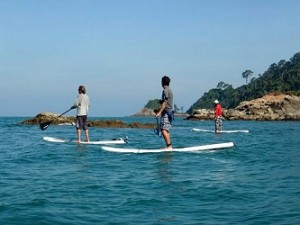 The Air Papan Festival is not the only attraction at this beach but it is also a popular spot for picnicking on long weekends and public holidays. The beach is equipped for your every need as there are public toilets and baths for everyone to use after a fun filled day. Another popular attraction of this beach is that it is a great holiday for companies who would want to hold a team-building weekend as water sports are available. There are also vendors in the area selling sea sports equipments, garments and not only do they sell; they offer a rental service for their equipments too.
Now, if you haven't had enough of this attractive beach and you are looking for a long and comfortable stay, there are a number of beautiful architectural Malay wooden beach chalet resorts available on the beach like the Sri Mersing Resort at the area. This resort offers many different services and activities great for team-building and family gathering efforts. Tug of war, beach volleyball and jet skiing are a few of the outdoor activities that many tourists have enjoyed during their stay at the beach.  The resort also offers Karaoke enjoyment that has a small fee of RM20 per session. Air Papan Beach is a great escape from the busy life and a spectacular place for a fun filled holiday.
Recommended Area to Stay in Johor
Johor Bahru City Centre
Gateway to the city attractions, Legoland Theme Park and eateries.
Desaru
For those looking for beach vacation and nature exploration.