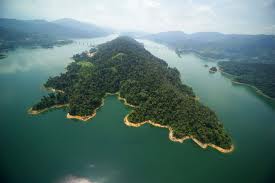 Banding Island also known as Pulau Banding, it is a man-made island located within Tasik Temenggor in the state of Perak. An interesting fact is that Banding is the only island that is overhauled by a couple of bridges linking it to the mainland. The distance from Ipoh to Banding would take approximately 200 kilometers, and with the help of road signboards and directories, it is no trouble reaching this island.
This may be a good simple weekend holiday for most, as the island is basically comprises of nature walks and fishing. Visitors can check in at the hotel, more commonly known as the Banding Island Resort as there are no other available ground accommodations as of today. The resort also provides short trips to the Orang Asli Village to experience their way of life, or a jungle trekking trip to have a glance of the Rafflesia flower. If visitors wish to opt for something different, they could spend a night at the 'floating chalets', which are basically accommodation on stilts in the water, which some may not be accustomed to.
The rustic feel that is given out by Banding Island lets visitors have a go at the 'kampung' life; an easy-going lifestyle and of no worries. Apart from that, mostly everything here is at a reasonable rate. Going through a lifestyle like such would be an eye-opener to the city people as technology is definitely lacking to have visitors enjoy the beauty of natural surroundings.
It is best to avoid going to Banding Island during the rainy season, as there may be chances of flooding that would be a threat. All in all, Banding Island is all about life at its simplest state.
Recommended Area to Stay in Perak:
Pulau Pangkor
The perfect place for seeking true island escape, with just a short ferry ride from Lumut.
Ipoh City
A gateway to all the city attractions with diversified of accommodation options available to choose from.
Taiping
A heritage town rich in tin mining history and serene atmosphere.