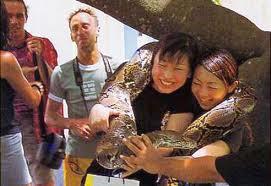 One of the major tourist attractions in Perlis would be the Snake and Reptile Farm located approximately 10 kilometres away from Kangar, enclosed by the Bukit Bintang Forest Reserve nearby Batu Pahat River. By driving, the farm is only 10 to 15 minutes from Kangar.
The snake farm is a research center managed by the Medical Research Institute to conduct various study on snakes, and to research on producing anti-venom for snakebites for local usage. As of today, being the main snake farm in Malaysia, it houses over twenty species of snakes from both local and overseas. Apart from snakes, it lives up to being a reptile farm as well, as it has numerous types of crocodiles and monitor lizards.
A number of rare species of snakes may also be found in this farm and only in this state. This strikes as an opportunity for tourists that are intrigued by the reptilian creatures as they would be able to come across extraordinary snakes that are difficult to find in other countries but only in Malaysia itself.
Besides having enclosed exhibits for certain species, the farm has open-air enclosures which allow visitors to have a good sight of the snakes and reptiles within a distance. Visitors that are out to find a challenging task to do are encouraged to have their picture taken with the snakes handled by the snake expert caretakers. From this experience, visitors would be able to comprehend the snake's ice-cold skin as a rare once-in-a-lifetime moment. Once the picture is taken, the caretakers would place it in a creative frame as a visitors' souvenir for a small surcharge.
Besides having snakes and other reptiles as an attraction, there is a recreational area for families to have picnics while they take in the scenic views. Not only that, a mini bird park is also available for visitors to sight see and catch eye on Malaysia's beautiful birds. Visitors that intend to stay the night are welcomed to, as there are affordable chalets available. Apart from being surrounded by reptiles and birds, those who are interested in other activities are welcome to enter the nine-hole golf course for the day.