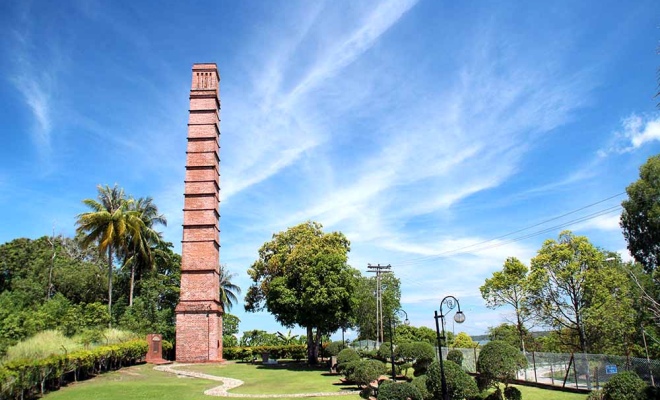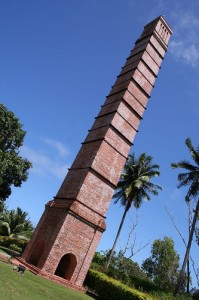 There are a number of things and artefacts that are perhaps placed on the earth (by humans and non-humans alike!) for the sole purpose of fascinating and intriguing indefinitely. These things keep drawing people's attention – churning various theories and hypotheses of both the conventional and not-so-conventional variety in order to make sense of the world.
If you belong to the group of people who can never get enough of mysteries (or think that you have a knack to solve mysteries), then, a visit to Labuan's Mystery Chimney is a must! Located at the north of the island of Labuan, Malaysia, your visit to this place will be greeted by a tall and thin red brick structure of more than 100 feet in height. The look of the structure is nothing out of the ordinary. An estimated 20 000 pieces of red brick (at least) make it up, and the bricks can be traced back all the way to England. In fact, the style of layering is similar to that popularly made in England.
Labuan used to be famous for its coal mining activity many years ago (circa 1850 – 1910). During this time, it was also a coaling station for ships. For a town of this nature, the structure would have appeared to be a normal landmark. It could very well be used as a ventilation shaft (hence many referred to it as a 'chimney'). The mystery began when a study was carried out, and it was found that there was absolutely no trace of smoke or burning morsel – none whatsoever! – in the inner wall of the chimney. It is reported that there are at least 12 layers of brick underneath the ground where the chimney stands.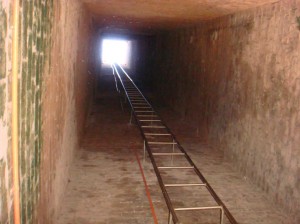 With the theory now faltered, new ones cropped. Some speculated that it was not meant to be a chimney after all, but that of a mansion, which, unfortunately, never get finished. Others said it was intended to be an imposing structure, or a light house, that could be seen by passing ships in the area. Whatever the original intent was, there is evidence that a booming community once stood around it. The chimney was then conveniently used as a bell tower when ships made their arrival, and the news was to be broadcasted.
Visitors can ponder and reflect in awe what must have taken place here more than a hundred years ago, the remnants of which still entices and allures.