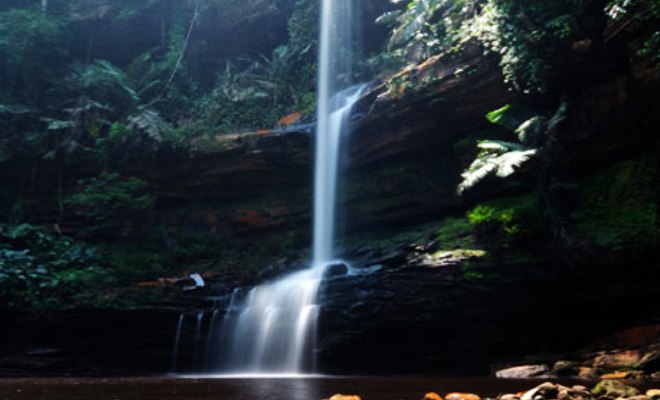 One of the best ways to learn more of the precious and beautiful Mother Nature in Sabah is to be immersed in the nature. There are many attractions in the state which provide you with well preserved flora and fauna of the state which will definitely ease your crave to learn more of these nature residents. However, it is also important for you to note that when you are on your mission looking out for these mysterious yet precious nature residents, you would also need to enjoy yourself in the process when you can both learn and be immersed in a totally nature and peaceful surrounding in the same time. One of the recommended places for you to be able to do this is the Sorinsim Waterfall located in Kota Marudu.
Kota Marudu is a small town; however, even though it is small in size, there are a lot of things which you can learn in the town. The Sorinsim Waterfall is one of the trademarks of the town; thus, if you are to drop by, do not forget to spend some time here so that you can learn more of the reason behind the waterfall being so famous amongst the local society of the town.
Here at the Sorinsim Waterfall, you will expect to find clear and cooling natural water rushing down furiously from the hilltop and evolving into a calm and peaceful stream by your foot. Soak your feet in the water to experience the cooling sensation while feeling the chills numbing your nerves; or you can even shower in the cold stream to wash away your exhaustion and tiredness of the day after a whole day of expedition in the state. You will also find that you are being surrounded by green plants and forests when you are in the place. The chirping of birds can be heard constantly, signaling the fact that you are indeed in a position very close to the Mother Nature.
The peaceful surrounding also suggests to you that you can also have a picnic session with your friends and family at the waterfall, which you can use the chance to bond your relationships with your love ones, and in the same time, experience more fun when you help each other to remind themselves on the importance of protecting this beautiful Mother Nature. If you are adventurous enough, or if you are seeking for some thrill in your trip, you can also camp near the waterfall, allowing you to interact closer with the Mother Nature of Sabah.
Recommended Area to Stay in Sabah:
Kota Kinabalu
From city's heritage exploration to islands escape, accommodation option in KK is countless.
Mount Kinabalu
For visitors looking to discover mother nature and access to the highest mountain in South East Asia.
Semporna
Gateway to the islands paradise (Mabul Island, Sipadan Island, Kapalai Island and more!).