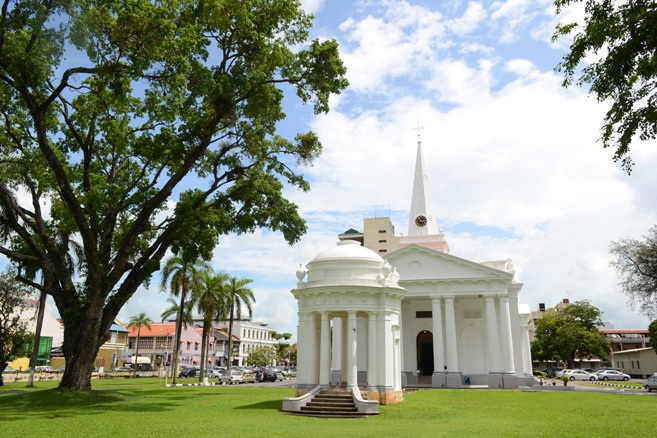 Photo credit: (Makko)
St George's Church is the oldest Anglican church in South East Asia and also the largest in Malaysia. Built in 1818, it cost a hefty sum of 60,000 Spanish dollars.
The church was built by convicts from India, and dedicated to St George, the patron saint of England. The church is located within large green compound, with an entrance that leads to a pathway heading to the Francis Light Memorial, a dome structure. Visitors will find the structure's designs very similar to the neo-classical and Georgian Palladian styles. The façade of the church consists of Doric-style pillars that support a gable, which provides shelter just outside the entrance. The pearl-white colour is a result of a major restoration in 2009, after the church was selected as one of the 50 National Treasures of Malaysia in 2007. Given the church's age, it has gone through many passages of time.
The first major event that took place here was the year 1818 wedding of W.E Phillips to Janet Bannerman, the daughter of Penang Governor Colonel John Alexander Bannerman. Both Phillips and Bannerman were the highest ranked British officers on the island. The church also witnessed aerial bombardments by the Japanese during the Second World War, yet, managed to survive unscathed. The names of those who lost their lives during the war while serving the military in Malaysia are engraved on a plaque and hung inside the church.
St George's Church is one of the heritage structures of Penang and must not be missed in any holiday travel plan.
St George's Church is located at Farquhar Street, intersecting part of Jalan Masjid Kapitan Keling.
Opening hour and entrance fee:
Services are held on Sundays at 8.30am and 10.30am. Entry is free.