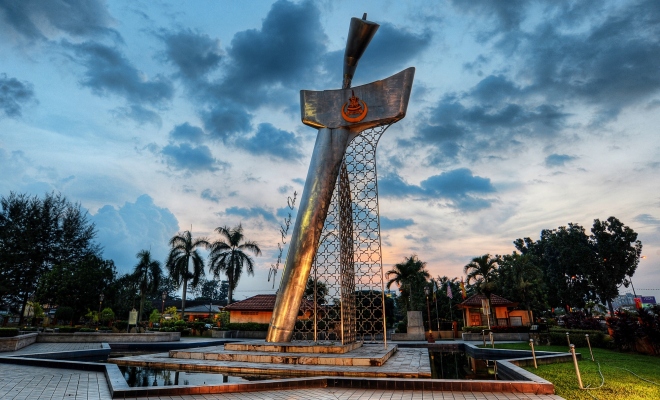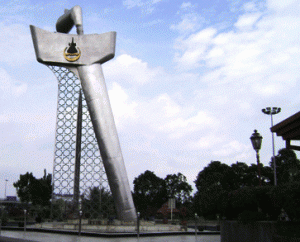 If foreign visitors from various other countries apart from Malaysia, Indonesia, Thailand and Brunei, notice the word 'Keris Monument', the first thing that they would be wondering about should be, "What is a keris?" Well, questions answered, a keris is merely a dagger and is common within the Malaysian locals as well as the few other countries mentioned in exception. The beauty of a keris is the fact that its blade is unlike ordinary ones that are straight and sharp, but instead, it is wavy!
The keris is not only a form a protection weapon but as well as a spiritual object to the locals. There is an in depth meaning within the keris, whereby it symbolizes strength, unity and power as well as for the Malay royal embassy. The monument is placed in Klang, and could be seen when one is traveling on the Federal Highway approaching towards Klang from Kuala Lumpur.
Also known to be Tugu Keris, it is said to be the prime keris statue in Malaysia, and has been of existence since the year of 1985! Silver colored and standing at large, the monument was to commemorate the silver jubilee of the Sultan of Selangor installation during the Jubli Perak in 1985.
Tourists could bring their family here to view one of the Malaysia's magnificent statues and also bring their children here, as there is a playground right next to the monument!
Recommended Area to Stay in Selangor:
Sunway
Gateway to theme park, shopping malls, entertainments and eateries.
Bandar Utama/Kota Damansara
From budget inns to mid range and luxury hotel, perfect for shoppers and leisure travelers.
Batu Caves
Range of budget hotels and provide easy access to Batu Caves, Bukit Tinggi and Genting Highlands.
Sepang / KLIA Airport
Perfect for visitors on transit.