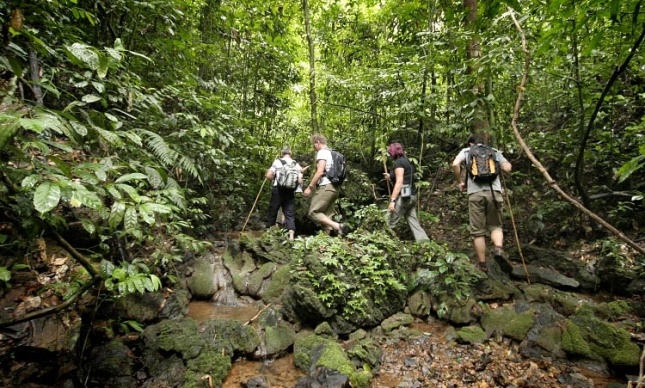 Visit Malaysia and be mesmerized by the many exciting and fascinating destinations that will make a holiday you will remember for a long time. Malaysia comprises of 13 states; each with its own special and unique heritage and tradition. You will definitely love how you can explore each state and immerse yourself in the many interesting destinations that await you.
The state of Johor is an interesting state to visit. Rapid advancement is taking over the skyline of the city of Johor but you will not be missing out on some of the best nature destinations while you are here. Johor has taken great care to take good care of their recreational forests. One such destination which will surely make the day of any nature lover would be the Sungai Batang Recreational Forest.
Situated a short drive away from the town of Segamat, you can make your way to this recreational reserve by rented car. There are many public transport systems that will take you nearby here but the best way to travel while in Johor would certainly be by a rented car. The forest sits on a vast amount of land and is definitely a haven of serenity. It is the perfect place for a quiet and relaxing gateway.
The forest is an amazing place to explore with its many interesting species of flora and fauna. Take a day to go jungle trekking and discover what the forest has in store for you. Do keep your eyes open for the many unique species of flora and fauna that call the forest their home. You will definitely have fun as you discover new things along the way. The track is not too challenging making it perfect for beginners without having to miss out on the adventure and the good sights to spot along the way.
Camping at the Sungai Batang Recreational Forest would be a good idea if you are here for a family gateway. There are many facilities and amenities in the recreational forest like public toilets, benches, designated campsites as well as changing rooms that will come in useful for your stay here. As you explore the reserve, you will find a gentle cascade of streams that flow down to form a few pools. Here is an amazing place to go for a swim and have a picnic. You will love how you will be surrounded by nature; a very tranquil and serene environment.
Recommended Area to Stay in Johor
Johor Bahru City Centre
Gateway to the city attractions, Legoland Theme Park and eateries.
Desaru
For those looking for beach vacation and nature exploration.