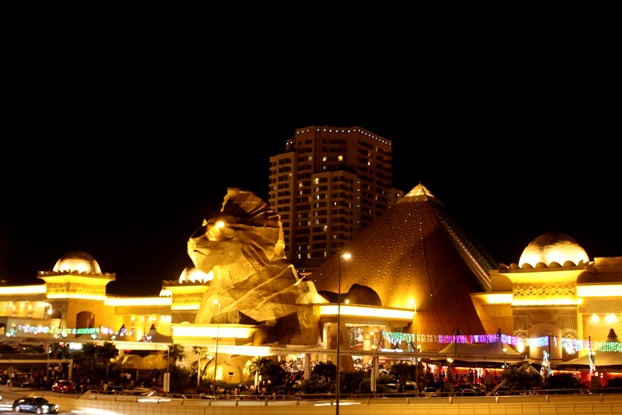 Selangor is a great state to visit. Out of the 13 states to choose from to visit while in Malaysia, Selangor is one of them that homes to many exciting and unique destinations that will definitely keep you coming back for more.
Selangor is known for being the state that has what a shopaholic will love. With so many shopping malls to choose from, you cannot but be spoiled for choice. Shopping malls in Malaysia are always large scale and are built to entertain a vast crowd. The Sunway Pyramid in Selangor is one such shopping mall that you should definitely spend some time in. The facade of this shopping mall is pretty unique considering how the building has been designed to look like a pyramid. At the main entrance, there stands a lion that looks like it is standing guard over the entrance. The large lion has become the icon for the building and Sunway Pyramid is almost synonym to this lion that stands at the main entrance. The building also has many pharaoh statues inside and outside.
Luxury brands, street brands and many other street stalls are found right here in Sunway Pyramid. It definitely is a shopper's paradise. get all the good famous brands right here as well as some less famous brands that sell amazing goods as well. You can find so much here. The cinema on the top most floor is a great way to spend part of your day; watching a movie in the prestigious cinema is definitely a good way to spend your day.
Make your way to the bottommost floor. Here you will find an interesting array of small street stalls. Here is also a good place to taste the local flavors as well as many franchise stalls. It is good to eat light to be able to try out more food.
Sunway pyramid is a popular choice amongst the youth in Selangor who come here because this is definitely a great place to hang out. Sunway Lagoon is just a short walk away and makes the shopping mall a convenient place to walk around, shop in and have fun. The ice skating ring in the center of the shopping mall is a great place to spend your day. For a small fee, have fun gliding across the ice with someone special. Lessons are also available for beginners or intermediate level skaters if you are interested for a very minimal fee. If skating is not your thing, why not head over to the 48-lane bowling center that will definitely occupy your time with hours of fun and excitement. The shopping mall has also recently opened up an archery store where you can try your hand at archery.
Accommodation near to Sunway Pyramid is not a problem as the Sunway Resort Hotel & Spa and Pyramid Tower Hotel are both within walking distance. It is always a wise choice to make a pre-book as both the hotels are always full with tourists and business travelers.
Recommended Area to Stay in Selangor
Sunway
Gateway to theme park, shopping malls, entertainments and eateries.
Bandar Utama/Kota Damansara
From budget inns to mid range and luxury hotel, perfect for shoppers and leisure travelers.
Batu Caves
Range of budget hotels and provide easy access to Batu Caves, Bukit Tinggi and Genting Highlands.
Sepang / KLIA Airport
Perfect for visitors on transit.