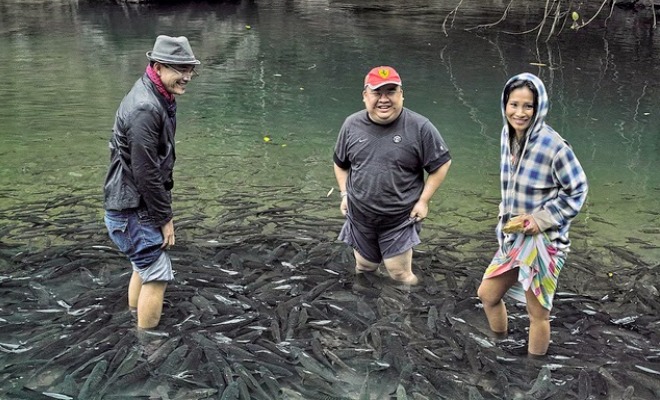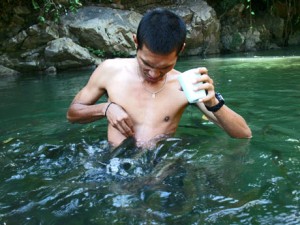 What is a holiday without taking the chance to be close with the Mother Nature? In Sabah, you have all the chances to do so. With the sole ideology in preserving the Mother Nature, the state of Sabah has also provides many opportunities to blend in with the wildlife of the nature. You can choose to head on to the 'Tagal' Sungai Moroli, Kampung Luanti – Fish Massage to be indulged in a whole new experience of being close with the fishes in Sabah. This is also a great start for your children to learn more of the fishes and in the same time, to learn on the ways to appreciate and protect them in the ever competitive nature.
Instead of having to spend buckets of money on a spa treatment, the river provides you with comfortable and a very close to nature spa experience with a very affordable and reasonable rate. Stepping into the place, you will instantly find yourself being escorted by the passionate and friendly local people taking care of the place to places which suit your preference and request.
However, it is important to take note that although this is a river filled with many fishes, fishing is absolutely prohibited. These fishes are meant to be protected and any harm cause to the fishes will result in serious consequences. Thus, by this, it is not hard to recognize that the main aim of this place is to preserve the fishes and in the same time, contribute to balancing the ecosystem in the river. This is definitely important in allowing our future generations to be able to witness the same fishes we are seeing today in the future.
Another interesting point to take note related to these fishes is that, these fishes (the Cyprinidae species) are all well-trained in providing a good massaging treatment for the visitors. Apart from the enjoyment you will obtain from the massage treatment, you will also be glad to know that this massage treatment can also benefit greatly in healing any skin diseases or sickness you possess. This is especially applicable to individuals who are suffering from psoriasis. The massage service provided by the fishes to you will definitely help you in possessing a healthy and smoother skin and thus, getting rid of your worries.
Besides of the massage service provided by the fishes in the river, you can also explore other activities in the place such as jungle trekking and camping. This is especially a good chance for adventurous individuals to learn more of the Mother Nature's beauty when they are immersed in such peaceful and amazing environment.
Recommended Area to Stay in Sabah:
Kota Kinabalu
From city's heritage exploration to islands escape, accommodation option in KK is countless.
Mount Kinabalu
For visitors looking to discover mother nature and access to the highest mountain in South East Asia.
Semporna
Gateway to the islands paradise (Mabul Island, Sipadan Island, Kapalai Island and more!).