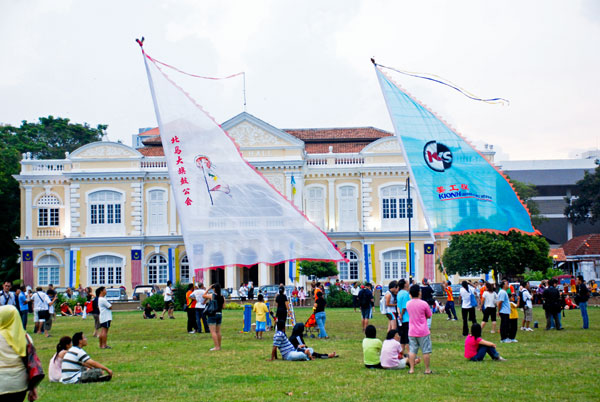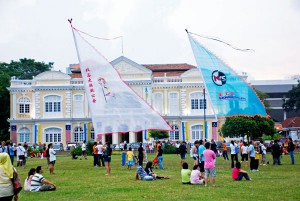 Being the heart of George Town, the Esplanade is a definite go-to when visitors are in Penang. During the olden times, the Esplanade was a firing practice ground by different regiments, and later after that it became a sports ground for football, cricket as well as lawn bowling. The walk through at the Esplanade may take roughly a couple of hours, seeing that it is as long as 3.2 kilometers! As visitors walk, they would also notice certain British colonial buildings that have been around since the time of past history.
From many years ago, the Esplanade has been a happening place for the Chap Goh Meh event. Also known as the Chinese Valentine's Day, the young eligible nyonyas will gather at the Esplanade on the Chinese New Year 15th day and throw Mandarin oranges into the sea in hope to find their true soul mate. As of today, some of the Mandarin oranges even have their numbers written on it! Besides the Chap Goh Meh events, the Esplanade also has numerous shows throughout the year, such as the Penang Cultural Show.
Tourists of today that are at the Esplanade would be amazed by the amount of hawker stalls and restaurants available. The aroma of local Penang cuisines such as the Char Kuey Teow and Oyster Egg would be enough to tempt them into having a hearty meal there! The cooling air and the night atmosphere would keep tourists around to enjoy the night view and have a stroll, taking in the beautiful surroundings of Penang Island.
Recommended Area to Stay in Penang:
Batu Ferringhi
Line up of beach front resorts from budget to luxury along Batu Ferringhi Beach.
Georgetown
For those looking for boutique style hotels and countless of cosy backpacker hostels.
Gurney Drive
A series of luxury hotels with fantastic sea view. Eateries and night entertainments are within walking distance.
Bayan Lepas / Airport
For business travelers.