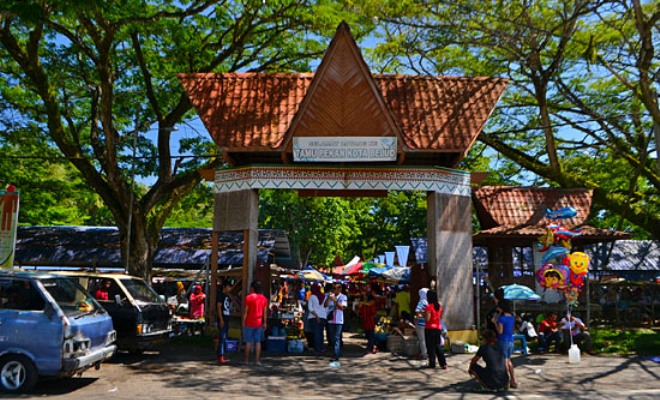 It is a must for visitors to check out the local cultures of the state of Sabah when they are planning a vacation there. There are many places which you can explore in order to enhance your knowledge on these unique local cultures. One of them is to dip into their daily lifestyles and observe from a close distance. If you are interested, you can visit the Tamu Kota Belud to get a good glimpse of the local cultures as well as their traditional skills use in producing useful and precious handmade products.
One step into Tamu Kota Belud will tell you instantly that you are now in a whole new district that differs greatly from your own. However, this is definitely not something to be afraid of; what you need to do here is to pay attention to the small details portrayed and presented by the local people in the place to catch sight of the small secrets hidden well within the place. It is possible that you may overlook these small details but if you seek them out naturally, you will definitely be able to locate them
Center of  Trade
Here, you can also find traders from all over the place gather and start their business with the local people. This would be an important observation as you witness the interaction carried out by these people when they are trying to sell or buy certain products. It is an interaction very different from what we always see in the busy real world, and for some sense, these interactions are exceptionally genuine and it would not be hard for you to find out that these people have genuine intention to conduct business with the seller or the buyer of the products.
Handmade Products
In Tamu Kota Belud, you will also find many handmade products such as the traditional local cakes, along with different unique house decorations on sale. Do not miss the chance to grab some of these products back to your homeland as this might the only chance you would be able to purchase something that come straight from the hands of the locals instead of having to go through the working process of factories.
Cowboys of the East
Besides, if you are here, be sure not to miss the famous Cowboys of the East, in which you will witness Bajau horsemen in various traditional costumes while showing off their local horse-riding skills. There are also many other events and activities being held in the place and if you pick the right time, you will get to see the crowning of the local beauty queen, as well as the local buffalo racing.
Recommended Area to Stay in Sabah:
Kota Kinabalu
From city's heritage exploration to islands escape, accommodation option in KK is countless.
Mount Kinabalu
For visitors looking to discover mother nature and access to the highest mountain in South East Asia.
Semporna
Gateway to the islands paradise (Mabul Island, Sipadan Island, Kapalai Island and more!).