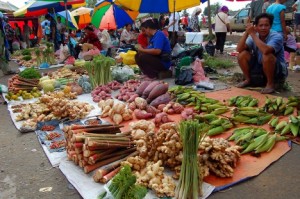 The local market of a town or a state is where you will be able to obtain the most out of the local cultures and traditions. Thus, if you intend to find out more of the local cultures as well as their daily lifestyles, it is recommended for you to step into one of the local markets you can find in the state and start exploring. A good start for you would be the Tamu Kota Marudu, in which you will not only find bits and pieces of the local culture elements, but you will also get to witness the extraordinary local touch implemented on the buildings in the town.
If you are to visit the Tamu Kota Marudu, be sure to set your day and time right. The market is available on Sundays located in Pekan Goshen. By knowing this, it can help you getting rid of unnecessary disappointments when you arrive at the place and find that there is nothing for you to see. However, if you are at the right place at the right time, you will definitely find this trip meaningful while being exposed to all sorts of local elements in the town.
Here is the place where you can find all kinds of trades being conducted – no matter big or small. Pay attention to the interactions between the sellers and the buyers because this will be where you will get a better insight to the daily lifestyles of the local people. Apart from that, the Tamu Kota Marudu is also an important place for individuals to purchase their basic and daily needs, perhaps you might even find some useful items for yourself too!
If you are interested, you can also purchase some of the household items for yourself, in which they can either be serve as an addition to your already existing household items, or they can act as great decorative items in your rooms. Plus, you will never get this chance anywhere else which you can buy precious handmade items produced genuinely by the local people with their traditional skills.
Apart from looking out for these precious items, you may also want to observe your environment, which you will find it constantly packed with people who come to the market to mingle around and to get the shopping list ticked off in the same time. If you are in doubt, the local people are more than happy to help you out by explaining to you the essence of their cultures and traditions.
Recommended Area to Stay in Sabah:
Kota Kinabalu
From city's heritage exploration to islands escape, accommodation option in KK is countless.
Mount Kinabalu
For visitors looking to discover mother nature and access to the highest mountain in South East Asia.
Semporna
Gateway to the islands paradise (Mabul Island, Sipadan Island, Kapalai Island and more!).