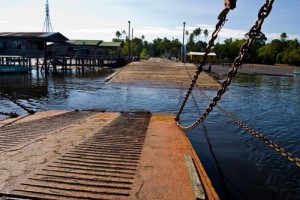 It is crucial for one to visit the local market when one intends to find out more of the local cultures and traditions in a particular state. In Sabah, you have unlimited choices to do so. If you have no idea on where you should visit during your vacation in Sabah, perhaps you can try dropping by the Tamu Kuala Penyu for a good glimpse of the daily interactions and lifestyles lead by the local people in the small market.
In order to be able to witness the liveliness of the market, you are recommended to visit the market on Tuesdays because this is the time when trades and business are being conducted by traders, sellers, and buyers from all over the place. This is definitely a good chance for you to clear your doubts on specific cultural elements related to the state when you can enquire directly to the local people when you are visiting the place on Tuesday. They are more than happy to help answering your questions. If you are lucky, you might even obtain some secrets you never know about the local culture which you will never get it elsewhere.
Besides, the Tamu Kuala Penyu is also a well-known occasion for the local communities to gather together, with the intention to either trade, sell, and buy products; or solely for more bonding and catching up sessions. Perhaps you can even be part of them when you are directly involved with a passion to know more of their culture essences. Thus, never miss this chance or your trip to Sabah will definitely not be complete!
As mentioned, the market is a great place for the communities to trade, sell, and buy products. Same goes to you as well. Here, you will find a lot of goods and items – most of them handmade – which you will never find elsewhere. Be sure to grab a few for yourself as these products will serve greatly in helping you to obtain a better memory of your visit to the market. You will find the item varies greatly, from food (homemade local cakes) up to household items. If you plan to brighten up your house, this is the place to check out. What is more unique than decorating your house with tit bits you gain from your oversea experience?
Besides, if you are to visit the Tamu Kuala Penyu, you will also obtain the chance to witness the different local culture elements being implemented in all the products and food the locals produce. This is definitely one great chance to observe what you didn't get to observe within a close distance.
Recommended Area to Stay in Sabah:
Kota Kinabalu
From city's heritage exploration to islands escape, accommodation option in KK is countless.
Mount Kinabalu
For visitors looking to discover mother nature and access to the highest mountain in South East Asia.
Semporna
Gateway to the islands paradise (Mabul Island, Sipadan Island, Kapalai Island and more!).