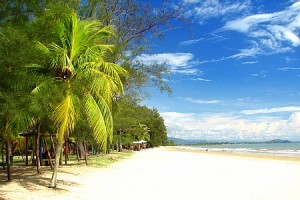 One of the must-dos when you visit one foreign country is to try as hard as you can to experience the Mother Nature one country is trying to preserve with its very own way. In a state like Sabah, you will find yourself being presented with plenty of such chances; thus, make sure you don't waste these chances to be close to the Mother Nature. Kota Kinabalu is the main city one would definitely visit in the state of Sabah. However, although it is a busy city, it does not mean that there is no place for you to relax. By this, you would definitely need to visit the Tanjung Aru Beach to experience the peace of mind you are looking for sandwiched between your busy and packed schedule.
The beach is situated very near to the Kota Kinabalu city; thus, it avoids you to waste most of your time on the road. Upon arriving, you will instantly feel the cooling sea breeze brushing across your face while you take shade under the aru trees, in which the name of the beach was derived from. One step on the smooth sandy beach will tell you that the local government and the local people had been trying hard to preserve and maintain the beach to its perfection so as to allow visitors and their own locals to be able to enjoy the beach without much disturbance.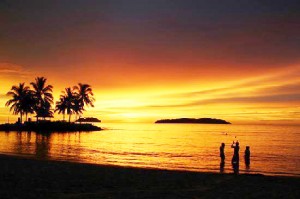 It is recommended for you to spend your entire day on the beach, especially if you do not want to miss out the fascinating sunset view which will definitely give you a whole new perspective on the beauty of Mother Nature. It is also a great chance for you to capture more fantastic pictures with your love ones to further remember your visit to the Tanjung Aru Beach for your vacation.
If you forget to bring along any food or beverages, do not worry. There are many local stalls serving local foods on the beach with great varieties to choose from. This is also a chance for you to taste the local delicacies without the need to purposely seek for one when you are on a road trip. What would beat the magnificent feeling of relaxing on a beach while enjoying the local delicacies in one country? Remember to try out the fresh and refreshing coconut juice as well as the local favorite satay when you are on the beach.
Recommended Area to Stay in Sabah:
Kota Kinabalu
From city's heritage exploration to islands escape, accommodation option in KK is countless.
Mount Kinabalu
For visitors looking to discover mother nature and access to the highest mountain in South East Asia.
Semporna
Gateway to the islands paradise (Mabul Island, Sipadan Island, Kapalai Island and more!).