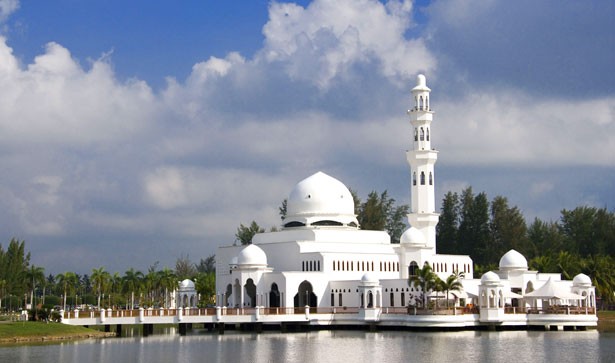 The Tengku Tengah Zaharah Mosque, built in 1995, is the icon of Terengganu. It was constructed on top a platform over a lake, thus giving the mosque a nickname of floating mosque.
The design and architecture of the mosque is a combination of both contemporary Malay and Moorish, visitors will be awed by its marble surface coupled with ceramics finishing that is laden with mosaic design. Strategically located at the mouth of Ibai River, the mosque gives off an aura of grandeur to visitors coupled with a calming sense of greater presence facing the South China Sea. This picture-perfect structure will indeed be a draw for shutterbugs. Wait out for sundown and be captivated by the romantic landscape view of sunset, followed by the night view of the brightly lit mosque.
The Tengku Tengah Zaharah Mosque is truly the most unique structures in Terengganu and must not be missed by visitors.
For visitors depart from Kuala Terengganu, proceed south towards Marang or Kuantan via land transport. This mosque can be found located along Jalan Sultan Mahmud, about 10 kilometres from Kuala Terengganu.
Opening hour and entrance fee:
There is no entrance fee required for Tengku Tengah Zaharah Mosque.