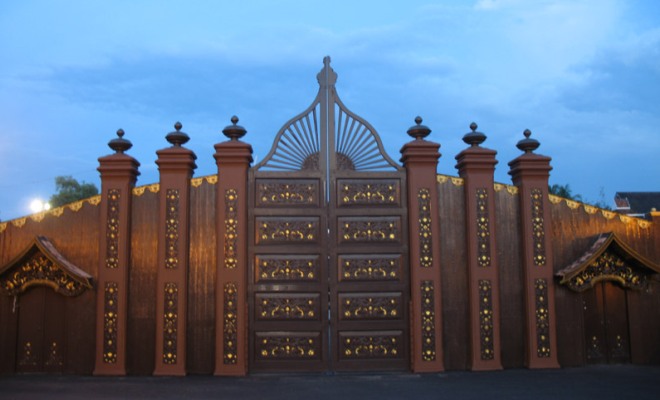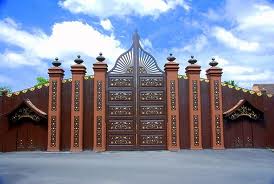 Translated as 'Palace with Great Hall', Istana Balai Besar is one Malaysia's oldest royal palaces. Built in the early 1840s by the day's ruler, Sultan Muhammad II, it was then called 'Kota Bharu' ('new castle' or 'new town'). It was here that the present Kota Bharu got its name from. Sultan Muhammad built the palace to be his residence and the sultanate's administrative center, after having to move from his former dwelling, Istana Kota Lama ('old town palace'), situated by the Kelantan River. According to ancient records, the move was necessary due to natural erosion damaging the old palace.
Istana Balai Besar is situated within an enclosed area of approximately 1630 square meters. The enclosure is made of local timber, which was a gift from citizens of Ulu Kelantan and Pasir Puteh. The structure is both imposing and impressive. Over the years, some parts of the timber was damaged by flood, and hence had to be repainted dark brown. Upon scrutiny, one can see and appreciate the olden beauty of the original embellishments, comprising of designed paneling and imprinted piercing (called 'tebuk timbul' in Malay) in the interior.
Within the arresting walls stand the palace itself – housing a notable audience hall ('balai besar', literally translated as 'big hall', which forms the sultan's reception area), a royal throne room, and a striking assortment of royal ceremonial objects. The audience hall has multitiered roof, reminiscent of Javanese architecture, covered with red colored-tiles called 'patini tiles'.
There are also the porch ('anjung' in Malay), main house ('rumah ibu', or 'mother house' in the literal sense), middle house ('rumah tengah'), kitchen ('rumah dapur' or 'kitchen house'), and a veranda for drying the royal laundry. There are also, of course, private dwelling areas built on raised piles.
In addition, there is an annexe built for the sole purpose of crafting the 'bunga emas' ('golden flowers'), which were gifts presented by the sultan to the Siam (now Thailand) government on an annual basis. The gift symbolized both friendship as well as recognition of the Siam government's eminence in the region.
The days when the royal family occupied this grand residence are now long gone, but the palace is still used from time to time – mainly for official state functions and royal investiture rituals. Unfortunately, the Istana Balai Besar is not open to the public. However, visitors flock the front entrance (from the outside) to accord themselves excellent photo opportunities.