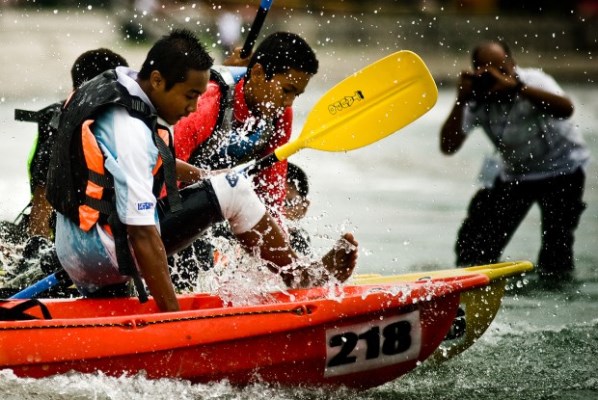 During one of the challenges in the past event (Photo credits to: http://www.manjuzri.com/blog/?p=158)
The Labuan International Sea Challenge is no doubt the largest event in the federal territory of Labuan, and this year marks the 18th time it is being held. Over the years the event has continuously outdone itself by organizing highly acclaimed competitions, such as the 'Round Island Kayak Race' in the year 2007 which was listed in the Malaysian Book of Records for having the most participants in a Kayaking Event, and again in the year 2009, for the 'Cross Channel Swimming Challenge' for the 'Largest Participation in Island to Island Swimming Challenge'.
Participants from around the globe are welcomed to join various fun-filled activities like the Labuan International Deep Sea Fishing Tournament, the Cross Channel Swimming Challenge, the Round Island Kayak, Kayak Sprint and other water sports. Be prepared to have the time of your life as you cool the tropical heat with some water sport during this time of fun in the duty free island of Labuan.
Event: The Labuan International Sea Challenge
Organizers:  Ministry of Tourism and Culture Malaysia
Venue: Labuan International Sea Sport Complex, Labuan Federal Territory
Date: 25th – 27th April 2014
Ticketing: Free admission