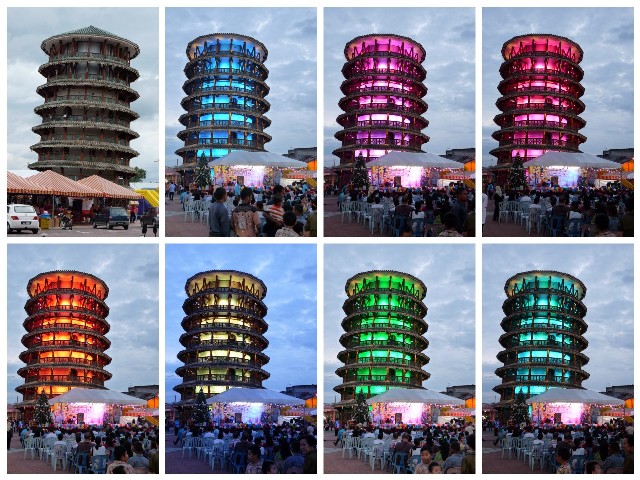 Come on over to the states along the west coast and explore the beauty and the heritage that each state has to offer and make a holiday that you will definitely cherish for a long time! The state of Perak is definitely a great state to consider visiting when you are in malaysia.
Besides having caves and caverns as well as great natural out doors to discover, Perak is also a great place to gain a better insight into the culture, heritage and history of the nation. If you are up to it, why not head over to the Leaning Tower of Teluk Intan. If you have never been to the leaning tower of Pisa, here is a good place to see something that looks just like the popular tower in Italy.
Location
Located in the center of a large square that is in the middle of two bustling streets in Teluk Intan, this tower leans to the south west direction slightly because of the weight of the water in the water tank. This brings us to the reason why the tower was designed. It was late 1900s that the tower was designed and built under the instruction and help of a Chinese contractor. Later on, it was claimed over by a British office. The tower is definitely a magnificent sight to behold. a pagoda style which is very unique to the area here and its five meter high structure stands looking over the bustling city of Teluk Intan. The design is definitely worth seeing. Step inside the tower and explore each floor. The tower has exactly 110 steps that lead you from the ground floor to the top floor of the tower.While the tower does not give you a good and commanding view of the entire town, it definitely is a worthwhile experience to be inside the leaning tower of Teluk Intan.
You will also be interested to know that during the time of the Japanese occupation, the tower remained standing, despite many other buildings nearby being destroyed by the British. The tower was later on used to become the watch tower for Japanese soldiers. The leaning tower of Teluk Intan was the site where many soldiers stayed up late to keep watch over their camps from the enemies. Many important events also took place here and there is nothing better than seeing this tower for yourself. The tower is an official monument once the nation declared its independence in 1957.
Recommended Area to Stay in Perak:
Pulau Pangkor
The perfect place for seeking true island escape, with just a short ferry ride from Lumut.
Ipoh City
A gateway to all the city attractions with diversified accommodation options available to choose from.
Taiping
A heritage town rich in tin mining history and serene atmosphere.