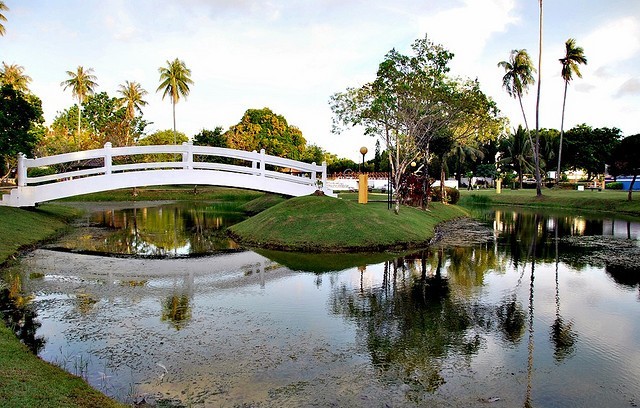 The Peace Park, officiated in 1984, was built commemoration of those who lost their lives in World War 2 and as a symbol of renunciation of the terrible acts during war.
Visitors to the Peace Park will firstly be welcomed by the serene beauty of the park, laden with greeneries and a man-made lake. A bridge curves over the lake and from there, visitors can take beautiful landscape photos of the park. The key feature of the park is a mound located at the centre of the park while just after the entrance lies a slab of stone, on which is inscribed "Peace is the best".
This is an important monument in Labuan that best capture the minds of visitors about the importance of peace as well as the symbol of harmony, acceptance and reconciliation between two nations. Another noteworthy attraction in Labuan, the Japanese Surrender Point is located within close proximity.
Labuan Peace Park is located in Layang Layangan Village. Visitors can take a taxi from Labuan Town to the Labuan Peace Park, the journey takes about 20 minutes.
Opening hour and entrance fee:
Labuan Peace Park is opened to public and no entrance fee is required.