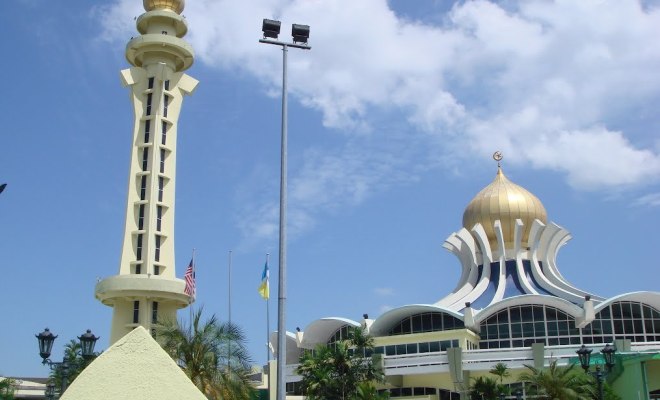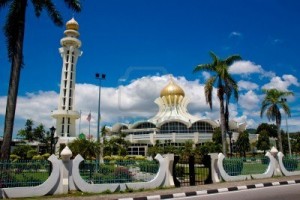 Penang Island is a great place to visit, it offers something exciting for every type of tourist; recreational, fun-filled adventures, a day on the sun-kissed beaches and even a visit to see some of the amazing animals. If you are on a road trip to explore the many different cultures of the land, then you may want to include the Penang State mosque on your to-visit destination list.
The Penang State mosque is one of the many beautiful mosques on the island that Muslims adjourn to in order to fulfil the obligatory Friday prayers. Not all mosques are open to tourists and visitors of other religions but the Penang State has opened its doors to exhibit its beauty and history to tourists who are interested. Tourists are required to contact the Penang Tourist Centre before granted access into the sanctuary.
Located along Green Lane or at the junction between Jalan Masjid Negeri and Air Itam, the mosque is hard to miss as it boasts beautiful and modern architecture. It took four years for the mosque to be fully completed in the year 1980 and was designed by a Brazilian. The architect managed to fuse the western effects with the intricate Malay elements into the design of the mosque, giving the mosque a magnificent look, standing out from the other buildings nearby. The domes which look like inverted onions on grand towers were designed by an architect from the Philippines and complement the design of the mosque.
Occupying almost 5 hectares of land, the mosque is most crowded on Fridays when Muslims on the island flock here to fulfill the obligatory Friday prayers. Male Muslims come here from around the island, usually in their Malay traditional costumes every Friday. Tourists who are interested in visiting the mosque may want to know this and choose other days of the week to visit the mosque as parking around the premises of the mosque may be a problem on Friday. The mosque is the largest on the island and can accommodate up to 5000 people at one time. The mosque is opened from Monday to Fridays with a longer lunch break on Fridays to allow time for Friday prayers.
Recommended Area to Stay in Penang:
Batu Ferringhi
Line up of beach front resorts from budget to luxury along Batu Ferringhi Beach.
Georgetown
For those looking for boutique style hotels and countless of cosy backpacker hostels.
Gurney Drive
A series of luxury hotels with fantastic sea view. Eateries and night entertainments are within walking distance.
Bayan Lepas / Airport
For business travelers.