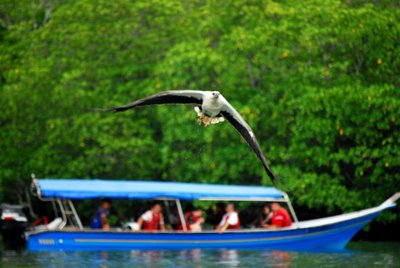 Kedah is located on the northern part of Peninsular Malaysia. It shares a border with the neighboring country, Thailand. It is a small state with a majority of Malay population. Kedah is the main rice produce state which provides more than half of Malaysia's home grown rice and thus it is often known as the "Rice Bowl of Malaysia".  Alor Setar is the state capital of Kedah.
For the Adventurous Nerds
For adventurous type of visitors, white water rafting at Sedim River can be a good choice. This challenging activity is fun and thrilling as there are as many as 24 recognized rapids within 16 kilometers run along the Sedim River. Some of the popular spots are Kasai Drop, Triple Rapid, Wall Drop and more. There are local companies here offering the knowledge and equipment for this activity as well as being your skillful navigator. Besides, Gunung Keriang is a perfect rock climbing location in Kedah that has 9 well-known climbing routes.
Water Sports and Fishing
There are many beaches around Kedah especially in Langkawi Island. Visitors can go diving at the famous well preserved and uninhabited Pulau Prayar Marine Park. There are many other water sports available at the beaches surrounding Langkawi Island. Some of the water sports are banana boat rides, parasailing, jet skiing, snorkeling, sailing, canoeing, kayaking, wake boarding, water scooter rides, wind surfing and more. On the other hand, you may plan a fishing trip to the only beach on Kedah mainland, Pantai Merdeka. It is popular for sailfish and mackerel fishing activity here.
Duck Tour and Cable Car Ride
To experience something fun, visitors can join the duck tour in Langkawi Island. This amphibious vehicle tour can go with bus or boat showing you around the Langkawi Island. The tour starts and ends at the main entrance of Oriental Village near the cable car station. You can have an enjoyable ride while watching the lovely scenery of the Island in this 45 minutes tour. After the duck tour, you may take the Langkawi SkyCab, the cable car ride where it will lead you to the stunning backdrop of the 450 million year old Machincang mountain range, the oldest rock formation in Southeast Asia. The ride takes 15 minutes.
Bird Watching and Underwater World Tour
With over 2,500 birds of 100 different species, visitors can watch these birds at the Bird Paradise Wildlife Park in Langkawi Island as well. It is Asia's first and largest covered wildlife park. Besides birds, the park is home to the crocodiles, pythons, donkeys, raccoons and monkeys. Visitors are allowed to feed some of the animals with the food provided by the park. Meanwhile, you may stop by at the Underwater World Langkawi to spend some time exploring the marine and fresh water aquariums. One of the special highlight is the "Penguinariums" where you get to meet the African Penguins and Rockhopper Penguins.