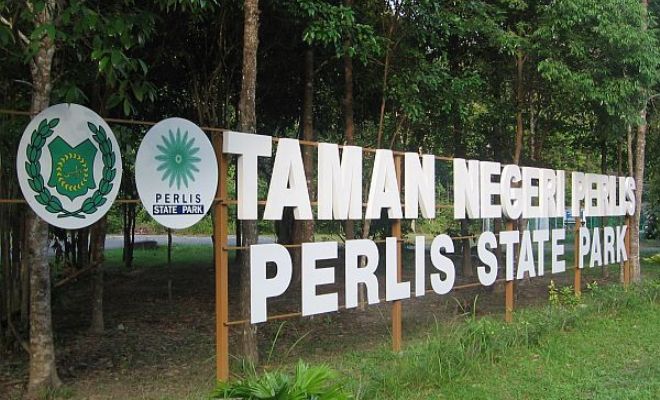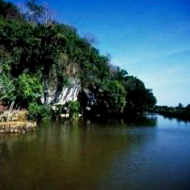 State Park of Perlis is situated nearby to border of Thailand. The park is surrounded by a variety of limestone hills in the state, namely the Nakawan Range which extends to about 36 kilometres long. The Nakawan Range is simply beautified by having lush, greatly forested slopes, steep cliff faces, extensive streams and wide-ranging cave systems.
To arrive at the park, those on the road are required to be on the North-South Expressway and take the exit at Changlun. Once exited, visitors are advised to take the Changlun-Kuala Perlis Highway to Kangar and head towards Padang Besar-Wang Kelian. Finally, keep on to Kaki Bukit Town and the Visitor Park Centre should be sighted.
The park comprises of the Mata Ayer Forest Reserve and the Wang Mu Forest Reserve that makes up to a total of 5,000 hectares of land. Positioned away from the packed hustle and bustle city life, the State Park of Perlis is definitely a place to visit for families and tourists from foreign countries that seek to explore Malaysia of a different environment.
Another unique feature about the Perlis State Park is the fact that it is considered the only forest in Malaysia that is semi-deciduous. That being said, during the dry season, obvious changes are noticed as the leaves from the trees fall. Apart from being a visitors' attraction as a recreational area, the park's prime objective is to protect, conserve, and conduct research about various plants and animals.
As a recreational area, the park is best suited for outdoor activities such as bird-watching, caving, hiking and jungle-trekking. For cave-visiting, tourists can opt for various caves like Gua Wang Burma I and II. Once permission is obtained from the Perlis State Park management for cave-visiting, tourists can hire services from a ranger or a certified guide.
To have an educational insight about the wildlife livings from this park, there are certain types of animals that can be spotted in this park, such as the stumped-tail Macaque. A number of plants may be familiar to the locals, such as the ginger, balsam endemic and ferns.
Visitors that wish to spend more time in this park can take an overnight stay in the chalets and hostels accommodated by the park management. In fact, visitors that wish to have a more 'outdoor' experience can choose to camp at the designated area and experience the park nature on a whole new level.