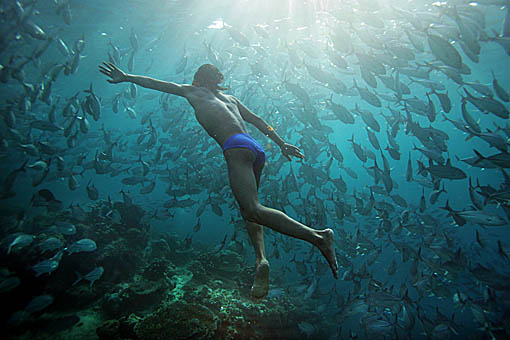 Sabah possesses a lot of natural resources that are both precious and unique. Thus, if you are to visit Sabah, do not forget to get a glimpse of these precious resources to complete your exploration in the state. The aquatic biodiversities in Sabah is especially one of the elements in Sabah that you must not miss out. In order to obtain a more thorough knowledge and insight into these beautiful resources, one of the places that you must visit is the Tun Sakaran Marine Park.
One step into the marine park will instantly transport you to a whole new marine underwater world in which you will immediately feel the underwater atmosphere around you. The peaceful and calm blue water surrounding you will instantly make you feel relax. Not to mention that the different aquatic varieties immersed in the blue water will also help add in some colorful elements in your ever boring and stressful life.
The marine park is also located in a place in which the place is isolated from the busy big city and away from the mainland. Thus, in order to reach the place, you would need to travel in a 2 hours boat ride to an island in which the marine park is located. The marine park is a huge place consisting of eight islands – Bodgaya, Selakan, Sibuan, Maiga, Church Reef, Bohey Dulang, Sebangkat, Mantabuan, and Kapikan Reef. Thus, it is recommended for you to reserve this whole day for a tour around the island.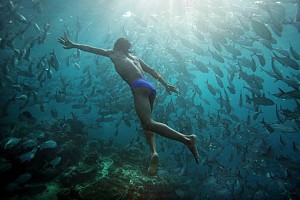 Visiting the Tun Sakaran Marine Park will ensure that you will get a glimpse of almost all the aquatic biodiversity residing in the state of Sabah. Although you might not find a huge number of these aquatic biodiversity strolling around the place, but it is guaranteed that you will be able to witness most of the varieties and species in the state which you may not be able to find elsewhere.
If you are an adventurous person and is hoping to explore more of the islands, you are more than welcome to bring along your diving kit with you, in which you can dive into the underwater world to witness the hidden beauty in the ocean. In here, you will also be able to discover more hidden treasure such as the bump head parrot fish and the eagle rays which are hard to be located above the land. You can also take a tour to the seaweed farm in which certain near-extinct seaweed species are being preserved and protected.
Recommended Area to Stay in Sabah:
Kota Kinabalu
From city's heritage exploration to islands escape, accommodation option in KK is countless.
Mount Kinabalu
For visitors looking to discover mother nature and access to the highest mountain in South East Asia.
Semporna
Gateway to the islands paradise (Mabul Island, Sipadan Island, Kapalai Island and more!).