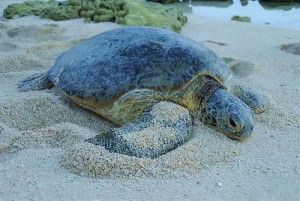 One of the most amazing moments in life is to see a newborn descending into this life. Not only human beings, the opportunity to witness a new life being granted to a new living being is always precious and an amazing thing to see. In Sabah, you will be granted such opportunity when you can witness the newborn turtles being brought into this life in the Turtle Island Park located in Sandakan.
The park is a natural habitat for the turtles; thus, the park is under heavy protection by the local government and the local people to protect these vulnerable new babies once they come into the new world. You can also find certain endangered species such as the hawksbill turtle here in the park. This opens up the opportunity for you to witness these rare species from a safe distance and in the same time, if you are lucky, you might even obtain the chance to witness the newborns when the turtles give birth in the park.
If you intend to watch these miracles right before your very own eyes, it is very important to note the most appropriate time for you to visit the park so that you would not miss the chance and ended up going back in disappointment and regrets. The turtles often land after dusk. Thus, you might want to consider staying overnight in the park so that you would not miss the golden opportunity to witness the happening of this small miracle.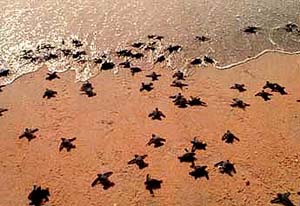 However, if you intend to stay and watch the landing of these turtles, there are some rules that you must follow. First of all, you must not flash your lights or snap pictures with your camera flash on because the bring light and flash will not only frighten the turtles, but they will also cause stress to the turtles which will eventually harm their lives. Therefore, it is necessary for you to keep your distance and be very quiet when you are observing the turtles so as not to scare them away.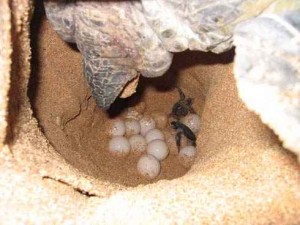 If you want to witness the turtles laying eggs on the park, the best time to visit the place is between July and October in which the sea is calmer and safer for the turtles to bring new lives to the world. If you are lucky, you might even get to observe the whole giving birth process, right from the way the mother turtle hide her eggs, up till the hatching of the eggs.
Recommended Area to Stay in Sabah:
Kota Kinabalu
From city's heritage exploration to islands escape, accommodation option in KK is countless.
Mount Kinabalu
For visitors looking to discover mother nature and access to the highest mountain in South East Asia.
Semporna
Gateway to the islands paradise (Mabul Island, Sipadan Island, Kapalai Island and more!).