UK Farm is an agro-tourism resort in Johor that began its operations in 2003 in goat-rearing business. Starting with as small as 2 acres of land, it has grown through the years to become a farm-cum-tourist spot with over 100 acres of land housing about 4000 goats. While catering to tourists, UK Farm in Johor remains well entrenched in its core business, breeding sheep / goats, production and supply of meat and milk, as well as expanded into fruit plantation.
The farm manages various guided tours that cater to different age groups and interests that generally take about 3 hours around the 100 acre farm. Visitor will be shown with the factory that processes feedstock for the sheep / goats and learn how feedstock is made and its composition. Nearby is the goat pen, which houses the animals. Here is where visitors get to pet and feed the goats. Next, visitors will be brought to the goat milk processing centre, learning how milk is purified, processed and contained before supplying to various buyers. The farm also houses several other attractions besides just goats. Visitors can visit the ostrich farm, at which visitors can pet the ostriches. Visitors can also meet up with the Jakuns, the indigenous people of Malaysia, at their village and learn about their culture and lifestyle. Finally, visitors can stop-by a fruit farm and mushroom farm. The guided tours also come with snacks or meals, depending on type of tours selected.
UK Farm is a beautiful tourist spot to enjoy the fresh air and greenery of grassed landscape and is ideal for family trips.
How to get there
UK Farm is located about 100 kilometres from Johor Bahru, about 1 hour's drive. From Johor Bahru, take the North-South Expressway and exit at Exit 244 Ayer Hitam toll. Then turn into Route 40 towards Kluang town before making the first turning to the left to reach the farm.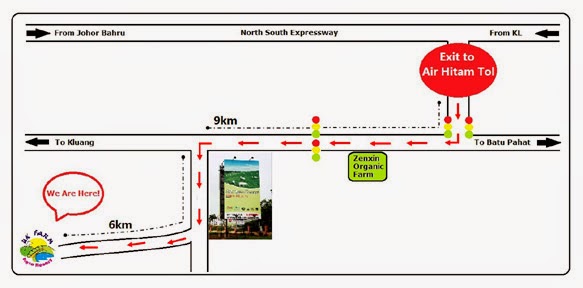 Opening hour and entrance fee
UK Farm is opened daily except on Thursdays, from 7am to 12pm and 2.30pm to 6pm. Entrance fee is RM 40 for adult and RM 35 for child.
Recommended Area to Stay in Johor
Johor Bahru City Centre
Gateway to the city attractions, Legoland Theme Park and eateries.
Desaru
For those looking for beach vacation and nature exploration.