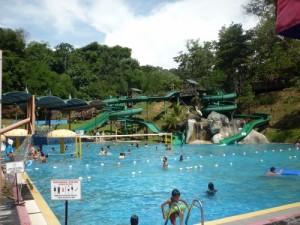 A vacation is the time when one can really relax and enjoy themselves and in the same time, escaping from all the stress and pressure they experience in the busy cities. When you are enjoying the peaceful time you obtain from your vacation, you might also want to try out some thrilling and exciting activities in Sabah. If you are interested in such activities, you can head on to the Water World Theme Park in Kota Kinabalu to experience such unforgettable memories when you are in Sabah for holiday.
The scorching hot weather in Malaysia will definitely make the theme park a wonderland for you. Imagine yourself soaking in the cold water under the hot sun. It would definitely be one of the best feelings you could get especially when you are already feeling uncomfortable with the weather. Besides, it is also recommended for you to bring along your friends and family for a great bonding session while you enjoy yourself with the various activities provided by the theme park. If you are looking for some thrilling rides to put your courage into practice, the slides (Double Loop Slide and the Torpedo Speed Slide) will definitely allow you to experience a new kind of excitement.
However, if you prefer to enjoy a peaceful soaking moment with your children, the swimming pools will be a better alternative. Here, you can enjoy moments of water splashing with your children, which will definitely become one of the best memories you can share with your children and your friends. After an exhausting day of water activities, you can also enjoy the various facilities prepared by the theme park. Enjoy a quick meal in the cafeteria or spend your time in the lounge while you tune in to the various local channels for some entertainment.
In the same time, if you wish to celebrate certain occasions such as birthdays or anniversaries in the theme park, you can do so by contacting the person in charge of the theme park and the next moment, you will find your special day being well-organized and before you know it, this would be one of the occasions in which it can serve as a great memory to be kept. If your children are involved with the celebration, this can also be a great reminder of memory reinforcement for their childhood which will thus contributes in tightening the bonds between them and their family members.
Recommended Area to Stay in Sabah:
Kota Kinabalu
From city's heritage exploration to islands escape, accommodation option in KK is countless.
Mount Kinabalu
For visitors looking to discover mother nature and access to the highest mountain in South East Asia.
Semporna
Gateway to the islands paradise (Mabul Island, Sipadan Island, Kapalai Island and more!).