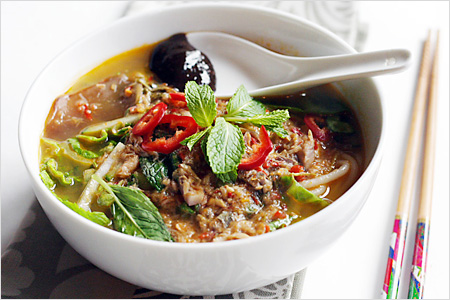 Kedah is a small state in Peninsular Malaysia. The population here is mostly Malay with very few Chinese and Indian. There are many paddy fields here as it is one of the major home grown rice supply of the country. Although it is not a state with many nightlife activities, visitors can enjoy feasting on the local delicacies and traditional dishes offered here.
Nasi Ulam and Pulut Unti
Nasi Ulam is a unique dish where rice are mixed with fresh raw vegetables and special spices including the ginger flower, dried shrimp, bird's eye chilies, cucumber, fruit julienne and toasted grated coconut. It is a traditional dish mostly eaten during the Malay's fasting month. The rice is usually served together with lime juice and palm sugar gravy with a choice of meat. Another special rice dish is the Pulut Unti. It is glutinous rice paired with fruits such as mango, durian and bananas or with sambal. You may find both Nasi Ulam and Pulut Unti here at the Restoran Berputar Seri Angkasa, a revolving restaurant at Alor Star Tower.
Laksa Kedah
A dish with thick rice noodles served with fish curry, cucumber slices and onions is a well-known dish in Kedah namely Laksa Kedah. It has a rich taste of sweet and spicy from the fish broth cooked with spices. The dish can be savored at Laksa Kelang Lama, Kulim.
Bahulu and Dodol
There are many mouth-watering delicacies available in Kedah. Some of the popular desserts are like Bahulu and Dodol. Both are sweet cakes made from flour, coconut and sugar. It can easily be found in many food stalls here in Kedah. Visitors can get bahulu from Wan'z Bahulu Panas located at Kulim while you can get dodol from Kompleks Pekan Baru at Jalan Tunku Ibrahim.
Kuih Karas and Gulai Nangka
Kuih Karas is another famous dessert found in Kedah. The delicacy is fried vermicelli and it is crispy and sweet to the taste. Visitors can come across Kuih Karas in almost any stall and markets around Kedah. In addition, Gulai Nangka is a jack fruit curry. This one of a kind dish is spicy with the use of tamarind and sambals.
Grilled Fish
Ikan Bakar means grilled fish is an all-time favorite here in Kedah. The fish used are mostly stingray. It is first marinated in spices before grilled and often wrapped up together with lady's fingers or petai to grill together. The spicy sauce that comes together is a must try for first time visitors. One of the popular places to try this is in D'Perindu Ikan Bakar located at Jalan Kuala Kedah.