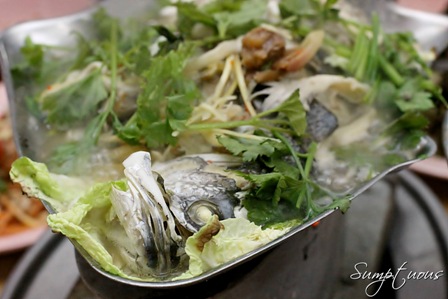 As the smallest state in Malaysia, Perlis is located at the far northern part of Peninsular Malaysia sharing the border with Thailand. The capital of Perlis is Kangar. Many tourists will stop by Perlis for a short visit before heading to Pulau Langkawi. Although it is a small state, there are a lot of attractions for sight-seeing with beautiful sceneries and not to forget some great food worth trying.
Medan Ikan Bakar
Medan Ikan Bakar is a stall located at Kuala Perlis. Like its name, it serves the famous Ikan Bakar. It is marinated barbequed fish over charcoal. It is truly scrumptious and great to eat with lime sprinkled atop and later dip in the special chili sauce. There are side dishes like the fried squids with sweet chili sauce, stir-fried greens, steamed clams with ginger, boiled cockles, fried eggs with chilies and onions, Tom Yam soup with the choice of mixed seafood or chicken and another great dish is the sambal petai with prawns.
Hai Thien Seafood
Another great eating place at Kuala Perlis is the Hai Thien Seafood where you can get lots of fresh seafood. Here you can enjoy great seafood meals at a reasonable price. One of the must try here is the Thai style steam fish with the mouthwatering gravy where it is best eat together with hot steaming rice. Some other bestselling foods are like Kelabu Mango, Sha Po Taufu and many other delicacies as well.
Restaurant Anjung Keli
For those of you who wish to try some local Malay cuisines, Restaurant Anjung Keli at Kangar is a great place. Here they offer a variety of local foods in Malay cooking style. One of the best recommended foods is the Ikan/Keli Sambal, the fragrant and lip-smacking sambal dish will definitely leave you asking for more. Other than that, there are many other tasty dishes available as well.
Kaki Bukit Bao Shop
"Bao" or known as bun is a type of Chinese food where fillings of either meat, bean paste or many other variations are wrapped in dough and being steamed or baked. Visitors must stop by at this "Bao" shop located at Pekan Baru, Kaki Bukit to get a bite on the many choices of buns. There are pork bun, kaya bun, red bean bun, vegetable bun, coconut bun, chicken bun and so on. The shop also sells "Lo Mai Kai" (sticky rice steamed together with chicken, egg, mushroom and Chinese sausage), yam cake, curry puff, vegetable dumpling and more.
Restoran Nelayan
Close to the Kuala Perlis Jetty, Restoran Nelayan serves wonderful light evening snack. One of the popular dishes here is Cucur Udang, a deep fried squid or prawn served with special sauce for dipping. Besides, you should give a try to the laksa (Malay style noodle) and Pasembor (Mamak Rojak where the dish contains of fried dough fritters, bean curds, boiled potatoes, prawn fritters, hard boiled eggs, bean sprouts, cuttlefish, cucumber and are mixed with a sweet and spicy thick peanut sauce) here, both are simple local foods but the taste is excellent and you will surely come back for more if you have a chance.