Selangor is one of the busiest states in Peninsular Malaysia with vast development in terms of infrastructure and public facilities and transportation. It has the largest population in Malaysia with a high standard of living. With that, visitors can expect a great variety of food to enjoy here.
 Restoran SS2 Murni
This is a popular "Mamak Stall" in Petaling Jaya, Selangor. Here they serve a variety of food prepared by the Indian Muslims. People of all races enjoy the food very much and visitors should drop by for a meal. There are many different types of "Roti Canai" (Indian flat bread) like Roti Hawaii, Roti Sardine, Roti Bom and more. Some other dishes are Claypot "Lo Shu Fen" (mouse tail-like noodle), Nasi Lemak, Nasi Goreng Kampung, Nasi Pattaya, Nasi Goreng Chicken Maryland, Naan Cheese and many more for selections. In addition, the drinks are of many choices as well like extra-large blended drinks, fruit juices, teh tarik and etc. All the foods are tasty and the prices are very reasonable. This mamak stall is located at Jalan SS 2/75, Petaling Jaya.
Fatty Crab Restaurant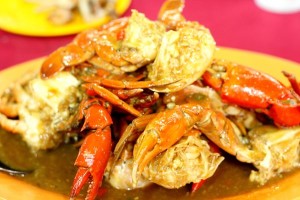 For crabs' lover, you should try the dishes here at Fatty Crab Restaurant at Taman Megah, Petaling Jaya. The crabs here are very fresh and the sauce is extra creamy where they will serve you toasted bread to eat together with the crabs sauce. The crabs dishes are cooked in different gravy, some sweet and sour, some with butter, some with oats, some are spicy and more. Visitors will definitely come back for more. Other than crabs, they also serve steam fish, garlic prawns, chicken wings, Fatty Crab's signature fried rice and more.
New Paris Restaurant
For some scrumptious Chinese cuisines, visitors must dine at New Paris Restaurant located at Jalan SS 2/72, Petaling Jaya. There are a wide range of Chinese dishes served here and they are well known for the fast service where you do not have to wait long after orders are placed. Some of the famous dishes here are Deep Fried Pork Knuckles, Signature Tofu, Watermelon Chicken, Buttered Prawn, Marmite Pork Ribs, Champagne Chicken, Fried Baby Squid and more.
Bumbu Bali
Try out some authentic Balinese cuisine at Bumbu Bali Restaurant at Jalan Persiaran Puteri 1, Bandar Puteri, Puchong. Some of the signature dishes are Nasi Campur Bumbu Bali, Ayam Bertutu Rice Set, Siap Megoreng, Pisang Bakar, Bubur Injin, Satay Lilit, Nasi Padang and more. The restaurant has a wonderful Balinese style ambiance and you will definitely enjoy a yummy meal here.
Restoran Sate Kajang Hj. Samuri
The best Satay in town is said to be at Kajang. The Restoran Sate Kajang Hj. Samuri at Bangunan Dato Nazir serves tantalizing Satay. The rich peanut sauce is mouth-watering and the Satay fragrant is totally hard to resist. Other than the ordinary chicken and beef satay, they also serve mutton, deer and even rabbit satay.
6 to 10 Grill & Nasi Lemak
This restaurant located at Happy Mansion, Jalan 17/13, Petaling Jaya is well known for its Nasi Lemak and grilled steaks. Some of the bestsellers here are Nasi Lemak with mutton, Red Wine Lamb Special, Red Wine Pork Ribs and more. The Nasi Lemak here comes with a variation of pork curry, mutton curry, chicken curry, chicken and squid curry and beef rending for your selections. There are lots of customers due to its tasty dishes at affordable prices.