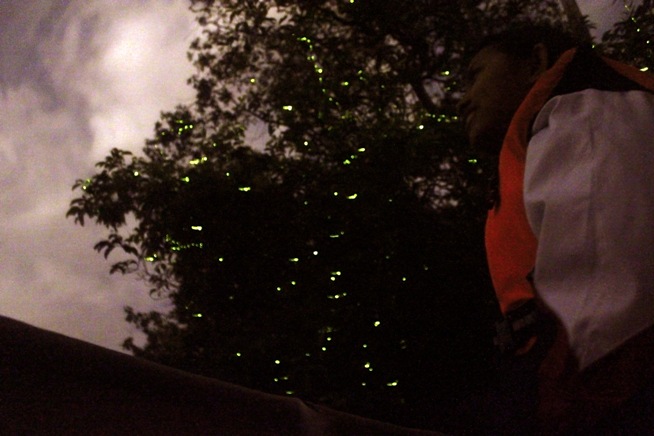 The Firefly Sanctuary, officially known as Yak Yah Firefly Sanctuary, may be lesser known compared to its counterpart in Kuala Selangor but its firefly concentration is reported to be the biggest in Malaysia.
Located at Kampung Ibok, the place has been developed to cater specially to firefly watching. Upon arrival, visitors will be taken on a boat ride and head upstream to mangrove swamps where fireflies usually congregate. Boats are powered by batteries to ensure a quiet ride as visitors are brought closer to the fireflies.  Tour usually begins at 8pm and ends by 12pm as the period is the best time to watch fireflies. Visits are highly recommended to visit between the months of July and September, during which the fireflies are in mating season and provides better displays of flickers and shines. Do note that tour will not be available on rainy nights.
The Yak Yah Firefly Sanctuary is relatively new and therefore, remains largely unspoiled by commercialization, offering a large concentration of fireflies.
The Firefly Sanctuary is located at Kampung Ibok. Journey from Kuala Lumpur via bus or car takes 3 hours and 30 minutes, about 310 kilometres. Visitors who are coming from Kuantan should head north via the East-Coast Expressway past Cherating and Chukai, the journey takes about 1 hour, around 70 kilometres.
Opening hour and entrance fee:
The boat ride fee is RM 25 for adults and RM 12.50 for children.