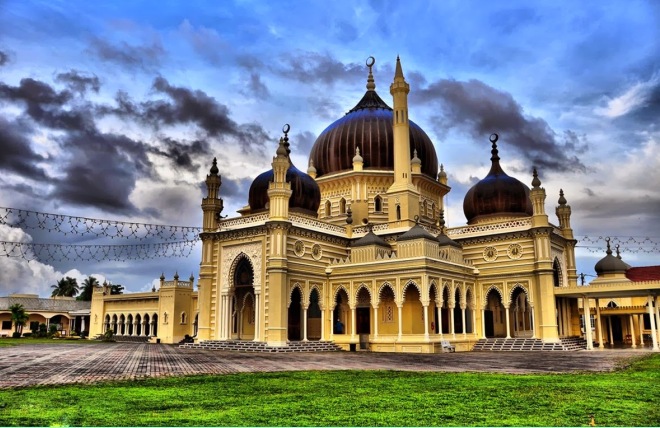 The Zahir Mosque is the state mosque of Kedah. Built in 1912, it is one of the oldest mosques in Malaysia and has been voted one of the most beautiful mosques in the world.
A trip to the mosque is mostly a sightseeing one to witness the grandeur of the structure, the beauty of the design as well as its serene surrounding. Upon arrival lies a large gate that precedes visitors' entry. The mosque, which covers an area of about 125 thousand square feet, is laden with intricate designs on its pillars and arches that are reminiscent of Islamic-Saracenic style. The 5 domes of the mosque represent the 5 tenets of Islam. Under each dome lies a mezzanine area that is surrounded by a verandah. Photography is highly recommended, particularly on an upclose view of the beautiful designs surrounding the pillars, minarets and arches.
The Zahir Mosque is a grand structure that embodies the beautiful Islamic architecture and design.
Zahir Mosque is located in the town of Alor Setar, within the state of Kedah and situated along the Darul Aman Highway.
Opening hour and entrance fee:
There is no entrance fee required to visit Zahir Mosque.
Recommended Area to Stay in Kedah:
Pulau Langkawi
The best island destination for seeking true escape complemented by a range of activities.
Alor Setar
A gateway to all the city attractions with accommodation from budget to mid range available to choose from.