| | |
| --- | --- |
| Day 1:  | Reached the airport at 1pm, rented a car, check-in to White Lodge Motel, had McD for my lunch, visited the Bird of Paradise, strolled at Kuah, had dinner,  visited the Eagle Square and Cenang Beach. |
| Day 2:      | Had Cactus Breakfast, Island Hoping, check-in to Sunset Beach Resort, visited Marine Park Harbour and Pantai Kok for lunch, went to Oriental Village, Cable Car and Tanjnug Rhu for sunset, bought chocolate at Kuah and had my dinner at Orkid Ria. |
| Day 3: | Went to the marine park and enjoyed a massage session at Sunset Beach Resort, went home by flight after strolling at Cenang Beach. |
Suggestion 1: If you are staying at Pantai Cenang and you are going to board on cable car, you'll pass by Pantai Kok and Telaga Harbour Park. Then, from the cable car, you'll pass by Ayer Hangat, Air Hangat Village, Perdana Galeria and Bird of Paradise.
Suggestion 2: I've gotten myself the "hot seat" when I checked in at the airport. So if it's possible, you may check-in at the airport. This is because usually those checked-in online, their seats are mostly at the back.
---
Day 1
9am: Drove to TBS to board on KLIA Transit, then took a bus from Salak Tinggi to LCCT.
12pm: Took a 55 minutes flight to the Langkawi Airport. Then, I called Kak Zeti to look for the car rental counter "Rojam". As Kak Zeti will only be there in the later afternoon, her colleague offered me a Proton Saga. Since I insisted to rent a Myvi, she has to lend it from the next counter "Indra Tour". My car has many scratched but overall is in good condition.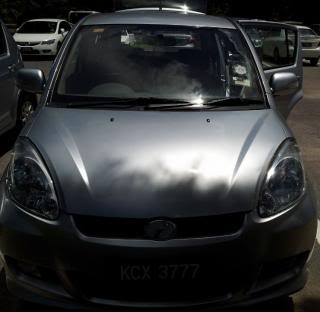 Drove to Cenang Beach to look for hotel after filling the car fuel. After checked in, I immediately went to McD for lunch and visited Bird of Paradise. In Bird of Paradise, there are mostly birds and tame animals. It's better than the underwater world as it allows children to feed the tame animals.
Cenang Beach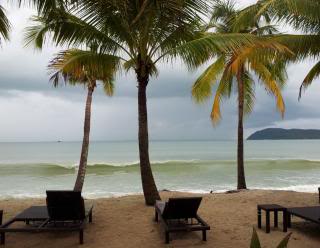 Bird of Paradise
Then, I went to Kuah for shopping. In conclusion, the Pantai Cenang Duty Free Zone is the most worthy place to shop. Went to "Huan Le Tian" to have my early dinner. The food's price and taste are still considered as acceptable: 1 chili crab, fried oyster pancake, mixed vegetable, mantis shrimp, rice and tea -RM51.
Went to eagle square to have a walk after dinner and of course not forgetting to snap some shots:
After bathing at the hotel, I went down to Cenang Beach to enjoy the breeze and have my support: Tomato Nasi Kandar – Chicken Naan and Milk Tea – RM11.50. The food is quite delicious but the drink is just so so. Then, I went to the Starbuck's in Cenang Mall to have a cup of Mocha Choco Chip.
– end of day 1 –
---
Day 2
In the morning, I went to Cactus for my breakfast after having a walk at Cenang Beach. Actually, the food are more in Westerner's style and a little pricy (3 adults 1 child for RM31). I immediately rushed back to the hotel to board on the bus provided by the tour agency. I thought I could have missed the ride and I was nervous. But luckily, there was someone to come and picked me up. The service level is just average as there's a China tourist got scolded, and the van to fetch us back to the hotel was late for 30minutes.  The journey could have been faster if I'm drivng on my own to Awana Porto Malai to board on the bot.
Besides the tour agency, the Sunset Beach does sell the island hoping package too (RM25). If there are at least 8 people, it's recommended to rent the whole boat at RM200 to RM250 because one boat is able to fetch 15 people.
We were only able to went back to hotel at around 2pm. I was planning to go 7 Roof for lunch after checked in the Sunset Beach but it was closed. So, I went to Telaga Harbour (next to PETRONAS) to take photos and then had my lunch at Pantai Kok. The food and price is awesome! Mee Rebus, 2 Nasi Lemak and 2 cups of Srip: RM9!
Telaga Harbour Park
There's horse riding at the beach (RM130 per hour):

Then, I went to Oriental Village and took cable car. Unfortunately, the Skybridge is closed till further notification is given. As there wasn't too many people, I didn't have to line up to board on to the cable car. The view throughout the cable car journey is so beautiful!
After watching the sunset at Tanjung Rhu, I went to Kuah to buy chocolate and alcohol. *Note: Thealcohol at Cenang Beach Duty Free Zone is cheaper whereas chocolate should be bought at Kuah at a lower price (although it's just the difference between few cents to 3 ringgit)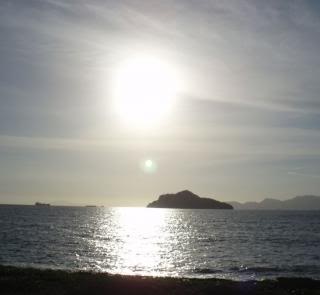 Then, I have my dinner settled at Orkid Ria. The price is reasonable and the food is so tasty: lobster, lala, vegetable, squid – RM140
– end of day 2 –
---
Day 3
The last day in Langkawi was so unfortunate. It rained so heavily right after we exit from the Underwater World.
Since I couldn't walk around, then I could only go for massage. I chose the 30minutes massage package for head, neck and the back (RM38 – 20% = RM30). It's so worthy as it was more expensive when I did research online (RM80-100 per hour). So, I recommend to you the massage at Sunset Beach Resort. The sea view and the sound of the ocean waves come perfectly with the massage.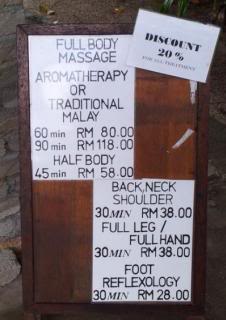 After the lunch at Old Town, then I head to the airport after passing the rented car. This marks the end of my journey in Langkawi.
– end of day 3-