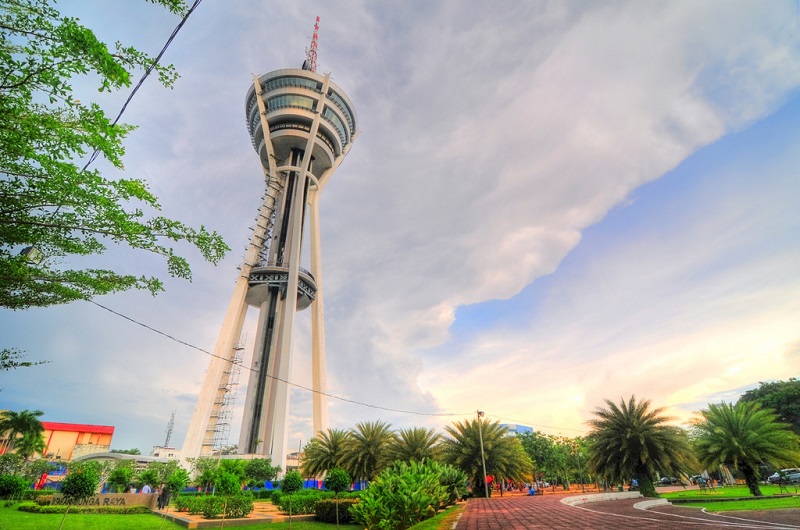 The Alor Setar Tower is the tallest building in Kedah and 19th tallest in the world, standing at a height of 165.5 meters. It acts as a communication tower for Telekom Malaysia, a national telecommunications company, and was completed in 1998 at a cost of RM 40 million.
The main draw of the tower is definitely its picturesque beauty, standing proudly as a background to visitors' photos. Close to the top of the tower is an observation deck that allows visitors to catch the beautiful panorama of not just Alor Setar town, but also Butterworth. On clear days, visitors can even spot the highest peak in Kedah, Mount Jerai, as well as the Strait of Malacca. Visitors are allowed to take the beautiful views home through a collection of souvenirs sold at the gift shop. There is a revolving restaurant at the top of the tower to satisfy hungry visitors, accompanied by the serenity of Alor Setar view. Depending on season, visitors may even be treated to concerts or cultural shows if their visit coincides with festivities.
The Alor Setar Tower is a huge attraction in the quaint and quiet town of Alor Setar.
Alor Setar Tower is located at Jalan Istana Kuning, in the middle of Alor Setar town and at the main junction of Lebuhraya Darul Aman and the Historical Palace.
Opening hour and entrance fee:
Alor Setar Tower opens from 9am until 10pm. Tickets for the observation deck cost RM 6 for adults and RM 3 for children.
Recommended Area to Stay in Kedah:
Pulau Langkawi
The best island destination for seeking true escape complemented by a range of activities.
Alor Setar
A gateway to all the city attractions with accommodation from budget to mid range available to choose from.