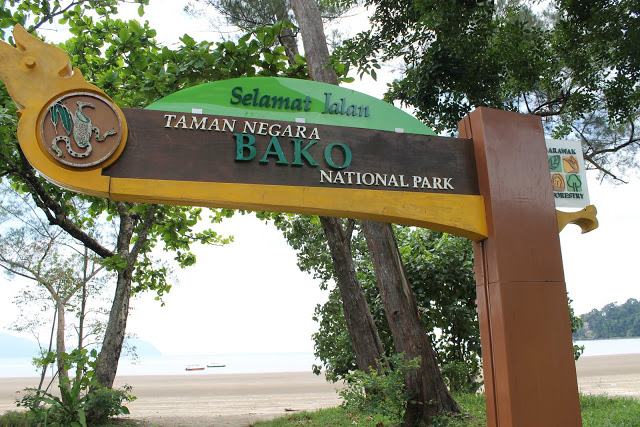 The famous rock formation in Bako National Park
The Bako National Park, established in 1957, is Sarawak's oldest national park. Located at the tip of Muara Tebas peninsula, just north east of Kuching, it covers an area of ​​approximately 2,727 hectares of rainforest.
Despite being the smallest national park in Sarawak, it is reportedly habitat to almost every type of plant available on Borneo Island. It boasts over 25 unique types of vegetation from 7 complete ecosystems, namely Peat Swamp Forest, Grasslands Vegetation, Mixed Dipterocarp Forest, Mangrove Forest, Heath Forest, Cliff Vegetation and Beach Vegetation. Nature lovers will be greeted by various landscapes that include rainforest, coast cliffs and hills as well as beaches, with options of either a day trip for hiking / trekking, or overnight camping expeditions. The park is also home to various unique life forms, namely the Proboscis monkey with its unmistakably protruding nose, the long-tailed macaques, the bearded boar, monitor lizards and carnivorous plants such as the bladderworts, sundews and the Pitcher plant.Visitors who are more physically-driven have a wide selection of activities to keep themselves entertained. Private operators provide water sports services at beaches at Telok Pandan, Telok Limau, Telok Assam and Telok Kruin, to name a few.
At the Bako National Park, there is much to see and do, not to mention its great biodiversity is definitely a natural wonder all packed in one park.
Bako National Park is located at about 40 kilometers from Kuching and requires a 2-tier transport to get there. First, take a 60-minute land transport to Kampung Bako jetty before taking a boat ride, which is another 45 minutes to the park entrance .
Opening hour and entrance fee:
Entrance fee to Bako National Park is RM 20 for non-Malaysian adults and RM 7 for non-Malaysian children / senior, while for Malaysians, entrance fee is halved for each category. Bako National Park is opened from 8am to 5pm on weekdays only, with overnight stays permissible upon reservations at hotels.