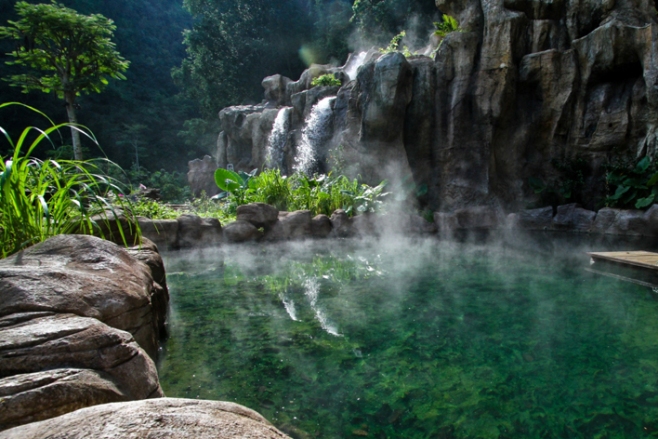 The hotspring pool in The Banjaran Hotsprings Retreat
The Banjaran Hotsprings Retreat is a 5-star, luxury wellness spa that caters primary to visitors who are seeking for relaxation and pampering. Visitors will definitely be able to find peace amidst the seclusion of being in a valley and surrounded by lush green hills. Visitors will also be enshrouded by privacy as there are only 25 units of villas available here.
The spa features a hotspring pool for visitors to dip in, dilating tensed muscles. The hotspring water is also conveniently piped into private pools for visitors who would prefer to relax in the comfort of their rooms. After easing the muscles, the Ice Bath offers a freezing experience that improves blood circulation and reduces blood pressure. Also, there are 3 caves available with different wellness purposes. First is the Thermal Steam Cave that will help visitors relax, soothes away the physical and mental stress. Then, there is the Meditation Cave that blocks away external noises to help visitors achieve a calm state of mind. Lastly is the Crystal Cave, which as the name suggests, is filled with crystals to assist in metaphysical healing. For skin rejuvenation, visitors can visit the spa, which offers various therapies to pamper the body, or dip their legs into the fish pool for a round of skin exfoliation and rejuvenation. After all these, visitors can further sooth their senses by taking a walk through the jungle via at conveniently constructed trek. Besides all these, visitors can tone their muscles and improve their fitness level by doing a round of gym or go for a swim.
The Banjaran Hotsprings Retreat with its various facilities offer a truly rejuvenating and refreshing getaway. Suitable for family vacation and honeymoon.
The Banjaran Hotsprings Retreat is located at Pesiaran Lagun Sunway in Tambun, close to the outskirts of Ipoh town. It can be reached via land transport with just 15 minutes drive through about 10 kilometres of well-constructed road.
Opening hour and entrance fee:
A 1-night stay cost a minimum of RM 1100 with additional packages at various prices. Do note that prices may vary depending on season. Check out more details about pricing and package here.