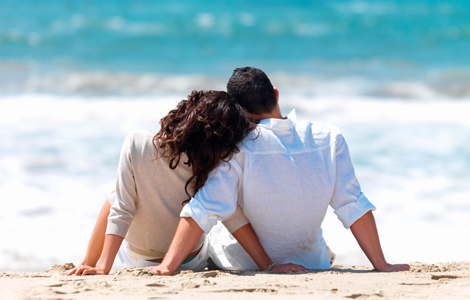 A tropical country filled with endless towering landscapes and lush rainforests to luxury hotels and romantic beach resorts. Malaysia always has something to offer. Whether you are looking for honeymoon vacation on a beach or island, or simply to spend a romantic evening with your loved one in the romantic boutique hotels, there are plentiful of honeymoon tour options available in Malaysia.
Spending your honeymoon on a beach or island is quite popular in Malaysia. With plenty of islands in Malaysia that are offering tranquil sea waters coupled with white powdery beaches, you will never find short of options in finding the best destination for a romantic getaway. Other than enjoying the wonderful natural view, diversified of island activities from kayaking, scuba diving, snorkeling, island hopping and more will sure to offer a strong bonding between you and your partner. There are also many resorts and hotels who are more than willing to setup a candle light dinner right in your suit or at the beach side as part of your honeymoon package.
If you are visiting the Peninsular of Malaysia, there are several islands that are worth to visit for a romantic vacation. Langkawi Island, Redang Island and the Tioman Island are a few popular islands that are well known for honeymoon tour, spending a couple of nights in the beach resorts will sure allow you not only to enjoy the beautiful scenery but also to relax and unwind on the white sandy beaches.
Malaysia has done some good efforts in preserving the natural wonders as part of the ecotourism project. The spectacular natural beauty in Malaysia not only provides an eco friendly environment but also offers the honeymooners a perfect place for a romantic getaway by getting back to nature. For those who prefer the cooling fresh air in highland area, Cameron Highlands is one of the perfect tourist destinations for the couple as well as family alike. Visitors to these places not only able to breathe the fresh air but also able to enjoy everything from what the lush tropical hill forest has to offer. You can either spend a day in enjoying the spa and massage or visit the many tea and fruit farms here. Either way will still allow you to enjoy a relaxing and romantic moment with your loved one. You can also visit some of the national parks here, a few magnificent parks such as the Taman Negara in Pahang, Niah National Park and Gunung Mulu National Park in Sarawak are all worth to visit.
If you are looking to explore the historical backgrounds of Malaysia, perhaps by visiting Georgetown in Penang and Melaka city in the state of Melaka who are both listed under UNESCO World Heritage site will give you an idea about Malaysia. You can either join a day tour to see some of the heritage sites within the city or rent a car or motorcycle or even trishaw ride to wander around the city. I am sure you will enjoy the ride with your partner. There are also quite a number of heritage hotels within the city, checking into these hotels will offer you a unique experience for your honeymoon tour in Malaysia.
Popular Honeymoon Tour Packages