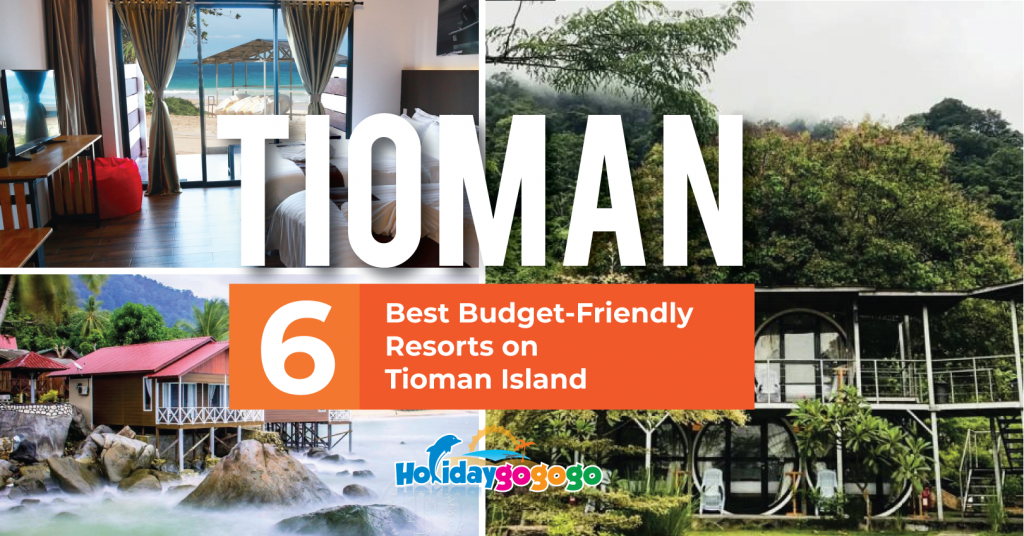 "You can always make money, but you can't always make memories."
At least, that's how the saying goes. And while this may hold true for some, not everyone is willing to break the bank to have a vacation. And you know what? That's perfectly OK (in fact, we think it's pretty wise).
The best vacations allow you to relax in peace, knowing that you've spent wisely and received your money's worth…and more! Here are the best budget-friendly Tioman Island resorts that offer the best value for your money.
[lwptoc numeration="none"]
---
1. Salang Indah Resort, Kampung Salang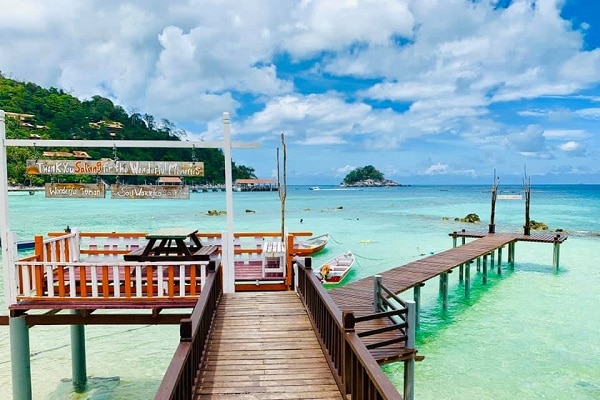 The Salang Indah Resort has renovated some areas of its compound recently. This always screams value to us as there is nothing better than enjoying brand new facilities and buildings. This budget-friendly Tioman resort is located on Salang Beach and is very close to the jetty. With the rainforest looming in the background, you will feel close to nature and connected with its very tendrils.
Salang Indah Resort is built on the beachfront and features chalets that open up to the sea. The resort is strategically located and perfect for activity lovers. It provides easy access to nearby snorkelling and diving sites.
Pro tip: it is close to the Salang Dreams Restaurant. This famous restaurant is located on the beach and right in the heart of Salang. It is a great spot to dine on fresh, hot seafood BBQ while digging your toes into the soft sand underneath. Some will even go as far as to say that this is the best restaurant in Tioman!
Rates: Weekend RM176/night for twin-sharing chalet (up to 2 persons)
Click here for package info
2. Sri Sentosa Chalet, Kampung Mukut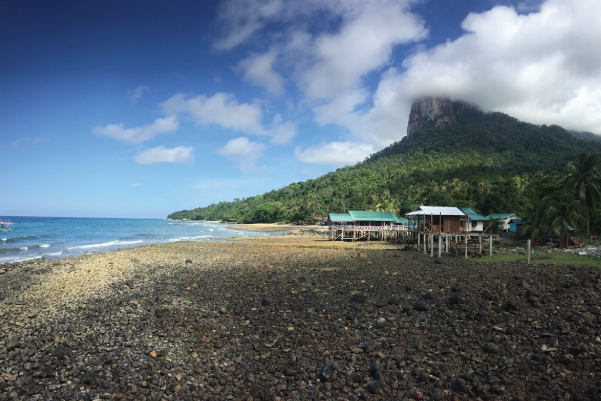 Sri Sentosa Chalet is a cozy establishment located at the southern end of Tioman Island, framed by the two grand peaks of Gunung Nenek Mukut in the background. With cascading waterfalls, flora, fauna, coconut and palm trees swaying to the wind, Sri Sentosa Chalet is the ideal rejuvenating getaway from all the noise of the city. The chalet's beach gives off a soothing calm, with clear waters visibly revealing the thriving corals underneath. Explore the beautiful marine life with snorkeling sets, boat trips and canoes provided by the chalet.
Besides these, you can also venture to the nearby Asah Waterfall for amazing views and a cooling bathe. Walk to the base of the Dragon Horns (only 5 minutes away) and marvel at the towering granite cliffs, or even attempt to climb them!
Rooms here are basic and come only with the necessary amenities. It is what you'd expect from any budget Tioman resort. However, they are clean and comfortable. They have chalets with amazing sea-views. You'll bump into mosquitos here and there but this is what village life is all about.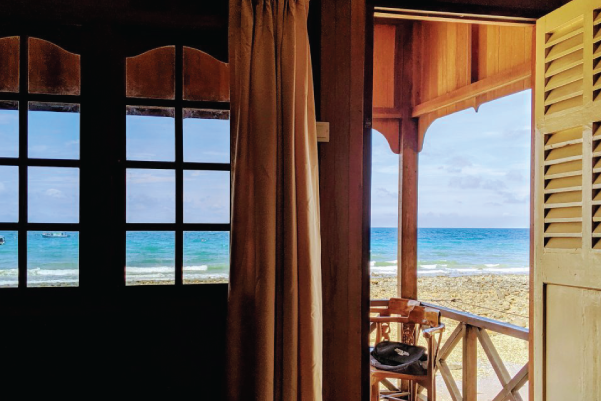 If you are not looking for luxury, and only want the beach and a village-style of living, then Sri Sentosa Chalet is the place for you! An all-around decent option for a budget Tioman resort.
Rates: RM137.00/night for a triple room (up to 3 persons)
3. Sun Beach Resort, Kampung Genting
Sun Beach Resort is a reputable resort with a Malay-style architecture applied on all its buildings.
The resort is located on the beach, near to the jetty (about 100 metres) where lots of local stalls sell street food, daily necessities and souvenirs.
With spacious rooms, attached bathrooms with hot showers, air-conditioning and more, Sun Beach Resort stands above others in the same price range. It is suitable for families with younger children due to its more complete range of facilities.
Rates: RM138.00/night for a standard room (up to 3 persons)
Click here for package info
4. Simukut Place, Kampung Mukut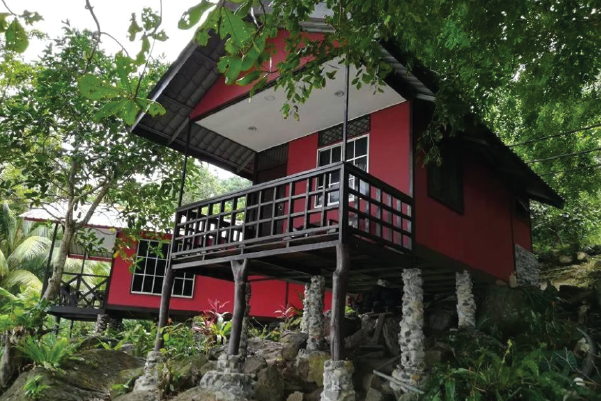 Located on the beachfront in Tioman's Kampung Mukut, Simukut Place is a great place to stay if you'd like to learn more about the locals and their fascinating culture. Unlike traditional resorts, Simukut Place is incredibly peaceful. Far away from tourist hotspots and hidden behind the famous Dragon Horns, the hotel boasts a close connection with nature. This is an ideal place to relax and calm your soul.
The villas here are basic but adequate. Snorkelling, climbing, and nature exploration are just some activities you can do while visiting Simukut Place. It is close to the Dragon Horns trail as well. In fact, the hotel is tasked with taking care of it (you'll get cheaper hiker rates if you're a guest)! The establishment is located close to two small restaurants and a sundry shop – all within a 10-minute walking distance. The town center is also relatively nearby at a 15-minute walking distance.
Simukut Place is very much a no-frills budget Tioman resort, best suited for a simple night's stay. However, for those who are here to explore the natural offerings of the island, it is more than enough. It is one of the cheapest accommodation options on Tioman Island, and there's not much anyone can say against that.
Rates: RM80.00/night for a budget double room (up to 2 persons)
5. The Barat Tioman Beach Resort, Kampung Juara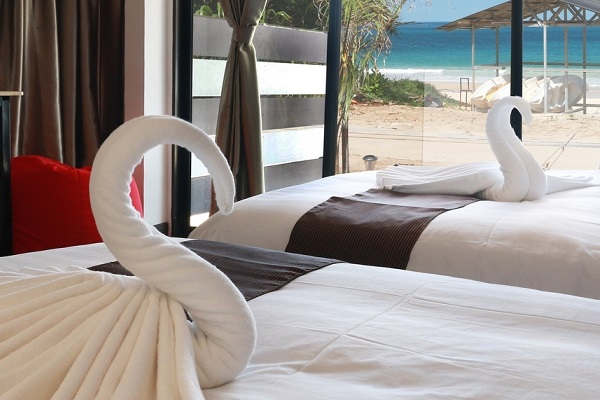 Located on the beautiful 2km stretch of pristine sand called Juara Beach, The Barat Tioman Beach Resort invites you to stay in air-conditioned comfort coupled with modern amenities in its comfortable chalets. The resort has its own stretch of private beach for guests to indulge in with blue sapphire waters and sweeping views of the sea beyond.
Live an exciting day of nature-inspired adventures, then cool down by the splendid swimming pool while sipping on a refreshing drink from the rooftop sky bar. Proceed to gain back that spent energy by feasting on succulent local dishes with an ocean view at the Barat Restaurant. End the day by heading back to your room for a hot shower and a peaceful night's rest.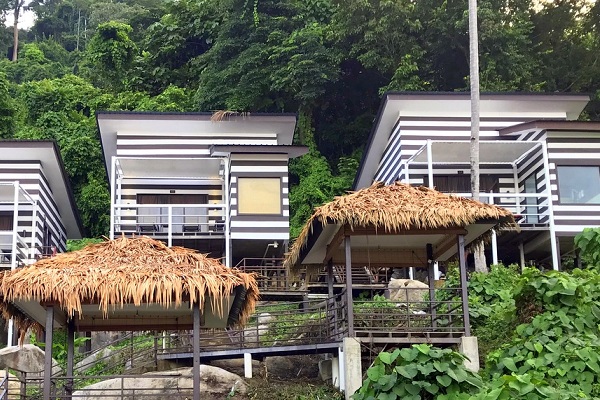 The Barat Tioman is on the slightly higher side when it comes to budget Tioman resorts. Still, for the views it offers, the vast array of activities provided at its recreation center, and the utmost hospitality afforded by its staff to guests, we have to give The Barat Tioman a double thumbs up! Value for money? Absolutely.
Rates: High Season RM280/night for a standard chalet (up to 3 persons)
Click here for package info
6. Go Deeper Tioman, Kampung Tekek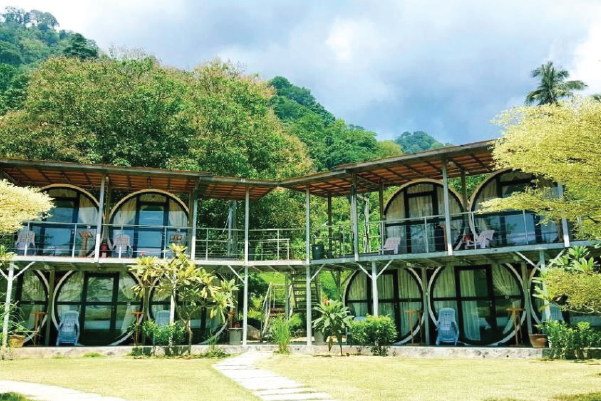 Go Deeper Tioman is a small and friendly operation that functions as both a resort and a dive centre. Their tube rooms are unique and closely resemble "capsule" hotels. It is undoubtedly one of a kind in Tioman. You get a small bathroom outside and a simple interior with a bed and little else. The separated toilets work in your favor this time as it allows you to clean off the sand and keep your rooms comfortable and sand-free.
Be entertained by the resort's recreational facilities such as hiking trails, snorkeling, and of course, diving. You can also opt for guided hikes through Tioman's lush jungles. Go Deeper Tioman is the ideal budget Tioman resort for adventure-seekers and prospecting/veteran divers.
Rates: Weekend RM188/night for queen-sized bed chalet (up to 2 persons)
Click here for package info