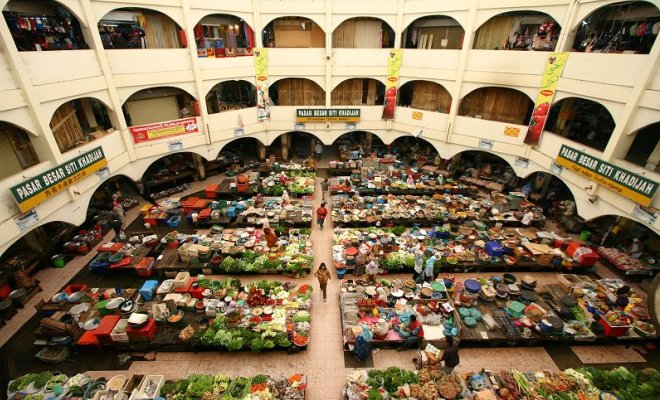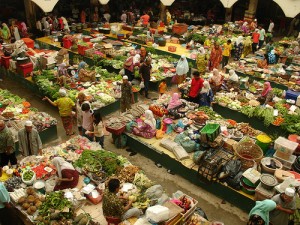 Visit to Kelantan, Malaysia, is incomplete without visiting the state's capital city, Kota Bharu. And likewise, visit to Kota Bharu is incomplete without dropping in at one of the town's most vibrant and interesting places – the Siti Khadijah Central Market at Jalan Buluh Kubu.
Siti Khadijah was the name of Prophet Muhammad's wife – an entrepreneur celebrated for her legendary success in the business arena. Her namesake is most appropriate in Kelantan, especially in this market, because the first thing that will catch your eye as you enter the area is the sight of commandeering womenfolk. Seated cross-legged on their raised wooden seats, they guard their precious stock – from brightly coloured, fresh, and delicious-looking fruits and vegetables to barbecued chicken and other food stuff – including dodol (a traditional cake made with glutinous rice, coconut milk – or santan in Malay, and usually carrying the flavor of aromatic pandan leaves) and keropok lekor (a fish sausage snack of sorts, but you must try it yourself to appreciate the fact that it's not quite the fish sausage as you know it).
Slightly away from the wet fresh produce-laden area, there is the dry market. Although women dictate the market scene, there are men around, and they are normally found in this area. The men operate their traditional ware stands, filled with a myriad of items such as leather goods, copper tooled handicrafts and silver rose bowls. Women are of course here too – selling clothing (usually beautiful and typically east-coast patterned batik in shirts, dresses, and sarongs) and household items.
Perhaps it's worth mentioning that Kelantan was once ruled by a female sovereign. Until today, this state is affectionately referred to as the state of Cik Siti Wan Kembang – the royal princess who captured the hearts of the Kelantanese people – both men and women.
The market is most busy and lively in the morning. You can see swirling colors and dancing baskets containing cabbage, turnip, tomato, chilli – to name a few, as the women (and men, and visitors) make their way through a riot crisscross of produce, stalls, and people. The hustle and bustle subsides with the receding of the day, but the market remains open all the way to sundown.
Tourists hog the market as it satisfies their hunger for endless browsing and shopping of interesting, delightful, and cheap offerings. A paradise not to be missed, the Siti Khadijah Market remains a welcoming Kelantan attraction since years ago.
The best place for shopping, this market offers a myriad of local handicraft including batik, clothing, household items as well as leather goods.