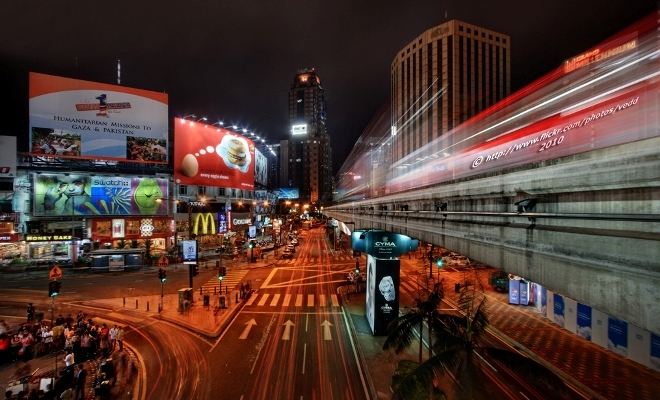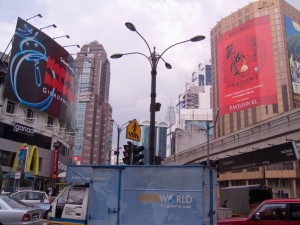 If your idea of tourism is the premier shopping, entertainment and food, then the golden triangle of Kuala Lumpur is where you should be checking yourself into. Situated in the Kuala Lumpur city centre, this golden triangle is certainly a triangle filled with great up market retail, entertainment and food.
If you choose to make your way here, you can take the LRT train services and stop at anyone of these streets for full access to the Golden Triangle: Jalan Imbi, Jalan Sultan Ismail and Jalan Raja Chulan. That's right; these three streets are the very streets that form this Golden Triangle that is a great tourist attraction in KL. If you are more ambitious and wish to check in to a hotel, you may be spoiled for choices. The streets that form the vicinity of this Golden Triangle certainly accommodate many premier hotels for you to choose from. It is one convenient way to have full and comfortable access to the golden triangle. This way, you can shop and enjoy the amazing night life and then easily go back to tuck yourself under the sheets to rest.
The pamper zone is also available if you would like to get away from it all. Besides, the many entertaining sites available inside this golden triangle, you could also check out some cultural interests that are available right here. The Istana Budaya nearby is a great place and is home to many culturally rich performances during the evenings. The Saloma Theater which also functions as a restaurant is a great place to enjoy cultural performances over dinner between 8:30 PM to 9:30 PM every day. The eye of Malaysia is also very nearby-just a taxi ride away. Nearer attractions include the Petronas twin towers, the underwater aquarium and the KL tower – a great place to dine in if you would fancy a revolving dining experience high up above the ground!
Farenheit 88, Low Yat Plaza, the Suria KLCC and Starhill Gallery are just some of the great shopping destinations located in the golden triangle. That's right-there certainly is more! The district is the place to be for all who wish to be spoiled for choice. The trip to Kuala Lumpur will not be complete if you do not stop for a moment to fully savor the taste of the nation. That's why; the golden triangle is also a great place to taste Malaysia. There certainly is a wide array of outlets to select from when it comes to filling your stomachs after a long day of shopping.
Do make your way to this amazing triangle right here in the city. It certainly is the best shopping district the city has to offer you!
Recommended Hotels in Bukit Bintang, Kuala Lumpur
1. Furama Hotel Bukit Bintang
Centrally located with spacious rooms, friendly staffs and great breakfast!
Reserve through Agoda.com
2. Berjaya Times Square Hotel
Located next to a popular shopping mall with plenty of dining and entertainment options.
Reserve through
Agoda.com
3. Melia Kuala Lumpur
Strategically located and surrounded by plenty of dining choices.
Reserve through
Agoda.com
4. Sky Hotel Bukit Bintang
Value for money accommodation and easy access to the nearby attractions.
Reserve through
Agoda.com
Browse all Hotels in Bukit Bintang, Kuala Lumpur >>