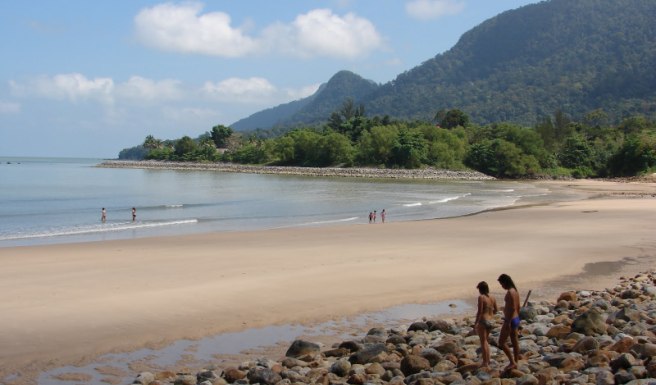 The pristine white sandy beach with calm sea water in Damai Beach
Damai Beach is one of the pristine beaches dotted along Sarawak's coastline, located at the tip of the Santubong Peninsula.
Damai Beach is highly recommended for visitors looking for a relaxing beach yet close enough to the natural greenery of a mountain. The unspoiled, sandy beach is perfect for visitors to ease the day away with cooling sea breeze that tapers down the warm tropical sun. Still far from being highly commercialized, visitors can find amply space for water-based activities operated by resorts such as water and jet-skiing, windsurfing and mountain biking. More adventurous visitors can try hiking the Mount Santubong, venturing through the rainforest in the process.
Damai Beach is Sarawak's best beach, and the only one that offers a beach front coupled with lush greens of a mountain. Nearby attractions include the Sarawak Cultural Village and Bako National Park.
Damai Beach is located at the tip of the Santubong Peninsula, around 45 minutes drive from Kuching with 40 kilometres in distance.
Opening hour and entrance fee:
There is no entrance fee required to visit Damai Beach.