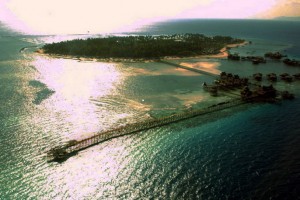 The hectic life in big cities can sometimes cause a person's frustration and pressure levels to be increased greatly. Thus, the holiday season is often the most anticipated time for most when one can finally release their heavy burdens off their shoulders temporarily and catch a breath for him/herself. If you are considering spending your precious holiday season in Malaysia peacefully, one of the most recommended vacations spots you must not miss is the Dinawan Island, located in Sabah.
Upon setting foot in the Dinawan Island, you will instantly feel as though you had just arrived in a whole new yet different world. The calm South China Sea surrounding the island is one of the most fascinating views you can capture on the island. Besides of indulging yourself in the beautiful view on the island, the premier resort provided specifically for tourists like you will definitely not disappoint you as well.
Staying the in the premier resort on Dinawan Island will allow you to be exposed to many unique and unforgettable experiences. Imagine yourself waking up to the chirping of birds and the calm yet soothing sea breeze. Opening the window of your resort room, the first thing that you will see is the amazing view of the sea along with the untainted beach of the island. You can also take a short jog along the beach early in the morning and if you are early enough, you might even be able to catch the breathtaking sunrise view on the beach.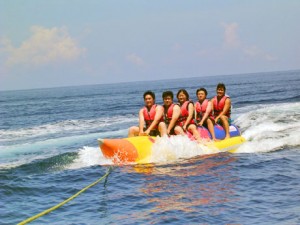 Spending your entire day on the Dinawan Island will definitely allow you to enjoy the beautiful Mother Nature without the need for more expenses. There are many challenging and exciting activities provided by the resort on the island which will definitely keep you busy throughout your whole day on the island. If you are a person who loves to spend time exploring the ocean, you can try out different activities such as sea walking, snorkeling, scuba diving, and other water activities that will allow you to step closer to the huge ocean. At night, you can also spend your time with more bonding sessions with your family and your friends in the premier resort while enjoying a meaningful game of pool, or even a game of mahjong. This bonding session is a chance you would rarely obtain when you are busy with your city life. In the same time, the premium resort also prepares services such as traditional massage to help you further relax yourself and also to enhance your enjoyment on the Dinawan Island.
Recommended Area to Stay in Sabah:
Kota Kinabalu
From city's heritage exploration to islands escape, accommodation option in KK is countless.
Mount Kinabalu
For visitors looking to discover mother nature and access to the highest mountain in South East Asia.
Semporna
Gateway to the islands paradise (Mabul Island, Sipadan Island, Kapalai Island and more!).