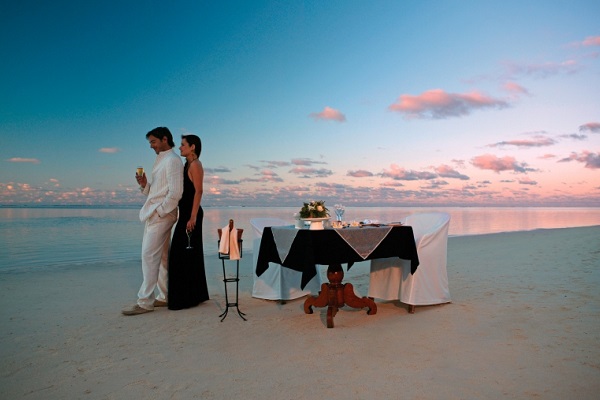 The union of two star-crossed lovers is a spectacular thing. If you're part of such a union – congratulations! You've achieved one of life's greatest milestones. What comes after? If you're out hunting for the best spot to spend some one-on-one time with your loved one, there's no better place than Redang Island (Pulau Redang). Read on for our guide on the 5 Best Redang Island Resorts for a Honeymoon.
1. Redang Laguna Resort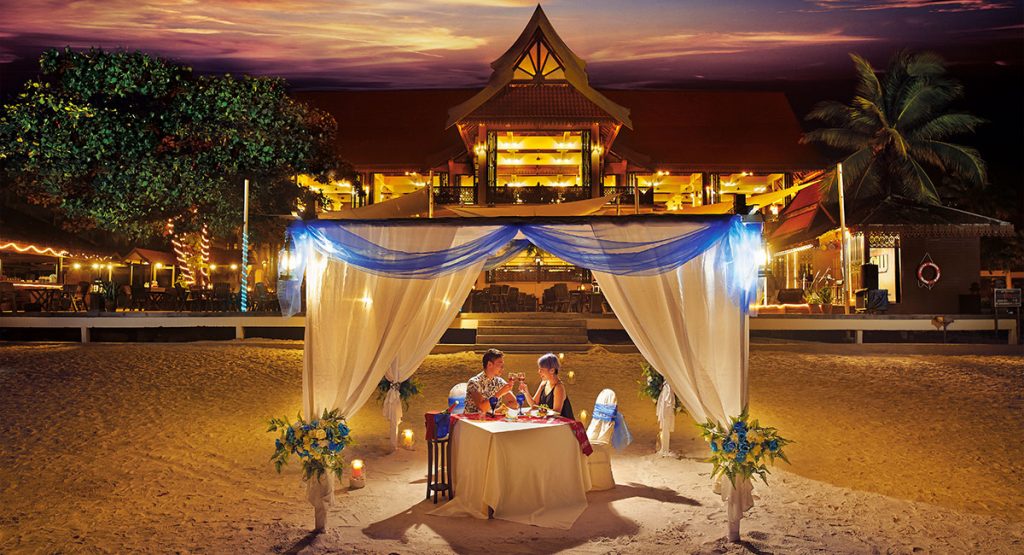 Surrounded by the jungle and boasting its very own pristine beach, Redang Laguna Resort provides a magnificent romantic atmosphere. Beware, however, because the beach is quite small and might seem a tad crowded at specific periods of the day.
Check-in to rooms stocked with complimentary fruit baskets, premium chocolate and a beautiful heart-shaped cake. Have dinner over soft candlelight while being serenaded by a professional band. Talk about your day and experiences over delicious food and a calming ambience. Indeed, the real romance begins at night when you're both lying on reclining beds by the sea and gazing at the twinkling stars, all the while with soft music playing in the background. This is one of the best resorts for a perfect honeymoon at Redang Island.
2. Redang Beach Resort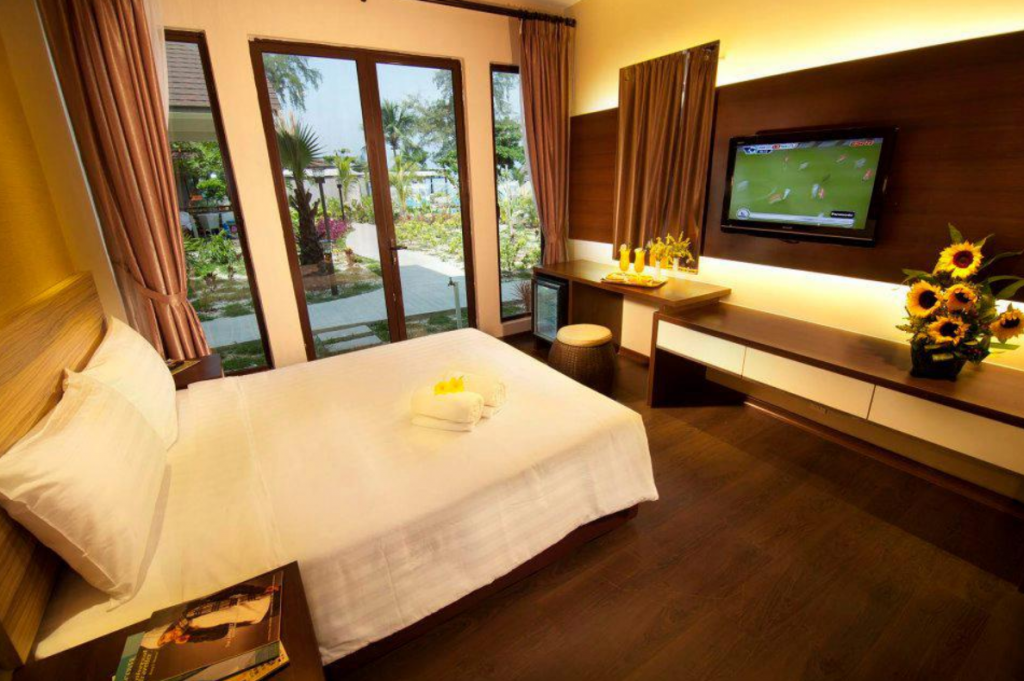 Redang Beach Resort, situated on Redang Island in Long Beach (Pasir Panjang), is a fantastic setting for a honeymoon vacation. The property is built atop a white, soft beach that also provides easy access to nearby coral gardens. Long Beach also happens to be one of the more happening places on the island. It has decent nightlife, a variety of food options and many activities for couples to choose from. It's never boring here!
It's worth mentioning that the resort is also able to organise proposals and weddings for happy couples.
The restaurant in the resort serves both Chinese and Western ala carte and buffet-style meals, and the kopitiam will surely please with the most aromatic coffee and tea in you'll find in this tropical paradise. Book with us to receive a complementary half-kg cake to profess your love to each other!
3. Sari Pacifica Resort & Spa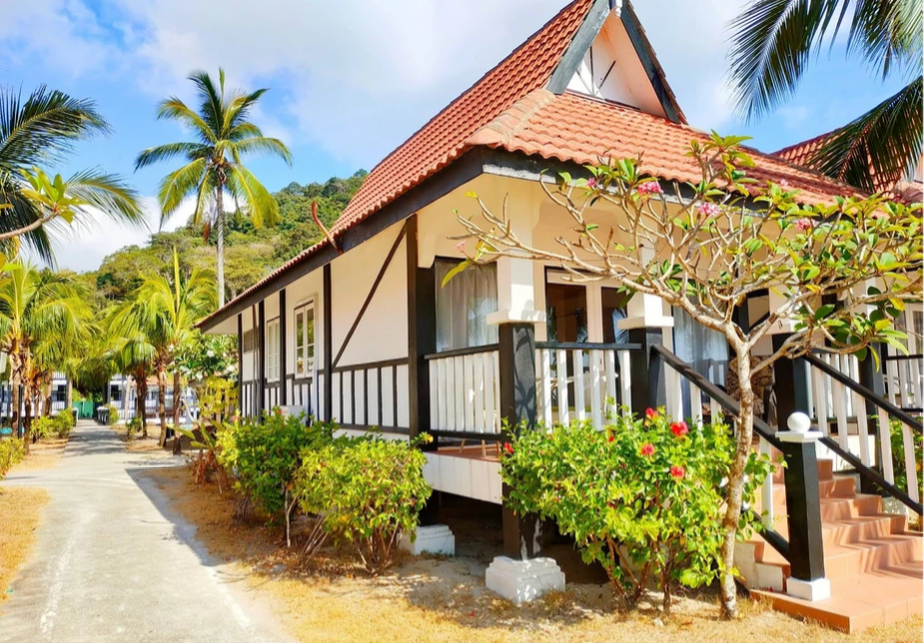 A pristine, white stretch of beach can go a long way to making a honeymoon perfect! Located on its own private beach, Sari Pacifica Resort & Spa ticks all the right boxes when it comes to location. The beach is beautiful, and the marine life that thrives near its shores are amazing to behold. You won't have to go far (just swim out 2 minutes from the beach) to come across playful turtles, harmless but handsome reef sharks and all kinds of colourful fish in the crystal-clear waters.
Couples will enjoy the spacious rooms as well as other resort facilities such as a swimming pool, reasonable activity packages and of course, a spa for all your relaxing needs. It might not be able to compete with 5-star resorts when it comes to amenities, but with a beach this terrific and a location to die for, Sari Pacifica Resort & Spa deserves a high rank on our list of best Redang Island honeymoon resorts.
4. Wisana Village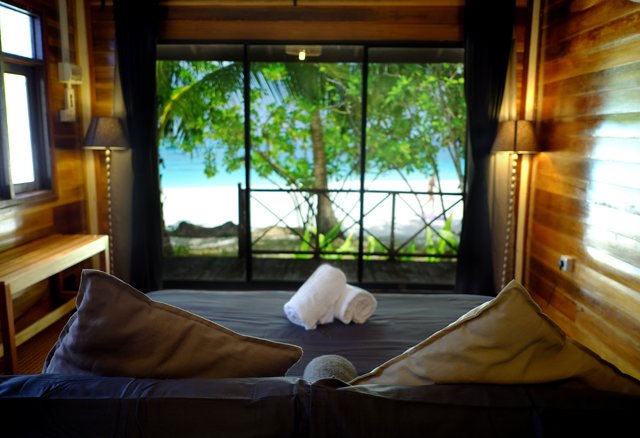 Wisana Village, considered a 'home beach resort', is a sea-front paradise located in Teluk Kalong Kechi, a private beach that features soft white sand, crystal-clear waters and panoramic views of nearby islands. The beach is excellent with calm, warm and clear water that promises a comfortable swim.
Wisana Village promises to be a cosy, romantic spot for couples to snuggle and profess their love for each other. There is an air of peace and quiet to it that draws you closer to nature. All of its 10 rooms sit on the beach and come with their own terraces and privacy. It helps that the resort serves some super-tasty food! Expect delicious buffet lunches and dinners, as well as BBQ selections on request at extra cost. Couples can also enjoy candlelit dinners on its excellent beach for a touch of added romance.
5. The Taaras Resort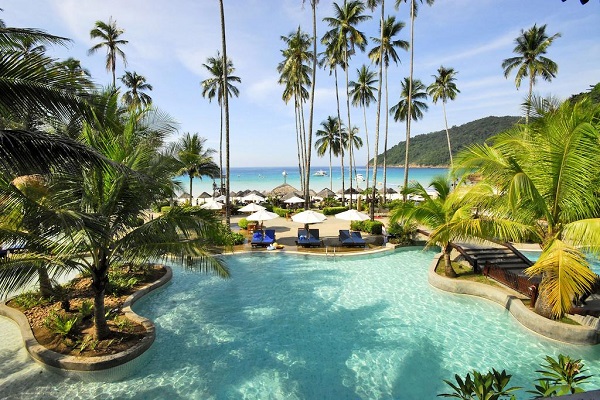 The Taaras Resort bestows a contemporary luxury experience with warm Asian hospitality that creates a magical experience for those who seek it. The resort owns one of the best beaches (if not the best) on the island. The coral gardens here are in pristine condition. In fact, swimming at the Taaras is like swimming in an aquarium as it has an abundance of marine life amidst its clear waters & soft white sand.
Choose from a diverse dining menu with both Asian and Western cuisines available. Allow the staff to serve you with their signature hospitality as you dine away and enjoy the simple pleasures of the island, such as soft music and a cool ocean breeze. When you're not in the ocean or relaxing on the beach, indulge yourself in a spa session, such as the Taaras Signature Massage & Deep Tissue Massage. Close off the night with a lovely candlelight dinner where the food is nothing short of superb.
Overall, The Taaras Resort offers a good value proposition for couples that are looking for the most luxurious Redang Island honeymoon resort experience. Pricing here is on the higher side, but it is definitely worth every penny. This is the number one island on our list of best Redang Island honeymoon resorts!
---
Popular Redang Honeymoon Packages