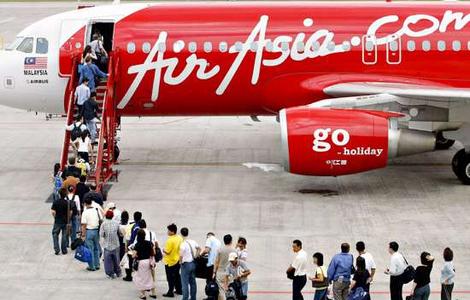 A country with good internal transportation link, domestic air travel infrastructure in Malaysia is actually well developed. Flying is one of the easiest traveling modes to get around in Malaysia, not only to save traveling time but also offer traveler an experience to view the beautiful landscape of Malaysia from the sky. There are 2 main airlines in Malaysia that offer not only cheap domestic air travel, but also provide domestic flights on daily basis.
Regular Scheduled Flights to all Cities
Malaysia Airlines and AirAsia regularly operate flights to and fro from all cities across the country. Both of these airlines not only use a variety of planes that are able to carry lots of passengers at once but also offering top notch service to its travelers. With these airlines you can fly not only to any of the main cities like Kuala Lumpur or Penang, but you will also able to get flights to cross the South China Sea to Kota Kinabalu or Kuching in East of Malaysia. It is essential to take note that Malaysia Airlines mostly operates from the Kuala Lumpur International Airport, while AirAsia operates out of the Low Cost Carrier Terminal, both airports separated by about 20km of distance. Both airports are located in the district of Sepang in Selangor.
In the recent years, Firefly operates from the Subang airport also offers some cheap flight tickets to the travelers. The airline mainly use propeller planes that carry lesser passengers, this airline is widely preferred by traveler staying around Petaling Jaya areas as the airport is located just minutes away.
Perfect Way to Travel
Travel around Malaysia by air is easy and affordable. In order to grab the cheapest flights, it is always good to keep an eye of the promotion package offered by the domestic airlines. In most of the time, the airlines will provide all inclusive packages that cover flight tickets, accommodation and tour at the cost of the regular airfare. As soon as you see such a good deal, you should book the tickets as soon as you can.
The easiest way to reserve a flight ticket is no doubt through online portal where you will get instance seat confirmation, if you are quick, you will also get the chance to grab the preferred seats at no additional cost. Some travelers still prefer to book through local travel agency, this is still a viable way as there are plenty of travel agencies in Malaysia who are more than willing to assist you. Take note that you may be required to pay a small amount of processing fee for such booking.
Most of the domestic airfares are priced moderately and sometime you will also able to get ticket with zero fare (only pay taxes), but it is worth to take note that the flight tickets price will be increased during the peak tourist seasons.
---
Whatsapp us to get more details!
Please WhatsApp us by clicking the WhatsApp Button.

We are reachable by call too:
+6010-2396385
+6016-3796385
+6010-2216385
You may also fill up the Inquiry Form below: