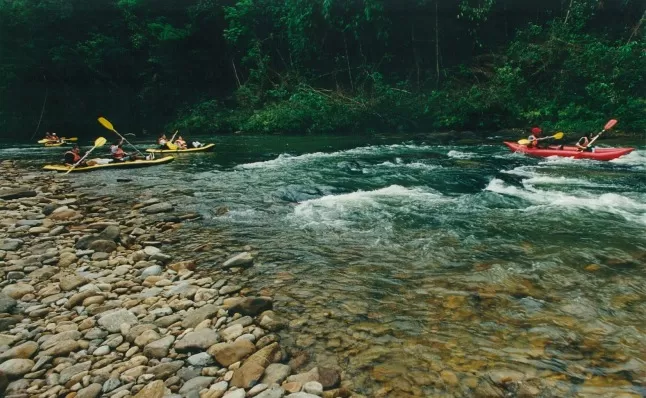 Visitors challenging the rapids
The Endau Rompin State Park is located in one of the oldest rainforests in the world. The park, which borders the Endau Rompin National Park located on the Johor state border, covers about 488 square kilometers of lush forest and is home to a menagerie of wildlife and plants, as well as various natural tourist draws such as waterfalls, streams, pools and fishing spots.
Within the park lies many attractions and activities for visitors. Take a slow-paced tour of the park by foot, hiking through 26 kilometres of the forest to appreciate the splendid flora and fauna biodiversity of a world that is untouched for millions of years. Wildlife enthusiast will be thrilled to know that the forest is home to up to 600 species of flowers, more than 1,000 species of snakes, 140 species of snakes and 150 species of frogs and toads. Visitors can also participate in water-based activities, such as white water rafting and tubing along rapid flowing rivers, or canoeing and boating along calmer streams. There are good fishing spots too, located at Kinchin River and Kemapan River, though visitors have to bring their own equipment. The park is laden with majestic waterfalls that provide cooling relief to visitors, beautiful dreamy background for photobugs or simply a relaxing place by which visitors can have a picnic. Some of the more famous ones include Mahkota Waterfalls, Upih Guling Falls and Buaya Sangkut Falls. The park also features a cave, called Kelapa Gading Cave, located at a height of 25 metres and in between the cascading flow of Mahkota Waterfalls.
The ancient Endau Rompin State Park is one of Malaysia's coveted rainforest parks that come with thrilling entertainment as well as awe for nature's wonderful designs.
Endau Rompin State Park is located about 45 kilometres from Kuala Rompin and can be reached via taxi, express buses or rented car. There are 3 entrances to the park. Visitors departing from from the northern, central and east-coast regions of Malaysia will proceed to Kuala Rompin first, before driving through Felda Selendang and reaching the Sungai Kinchin Base Camp. Visitors coming from the southern region will first proceed to Kota Tinggi, followed by Mersing and Tanjung Gemok before reaching Felda Selendang and the base camp.
Opening hour and entrance fee:
Admission to Endau Rompin State Park is RM 10 for adult and RM 5 for child.