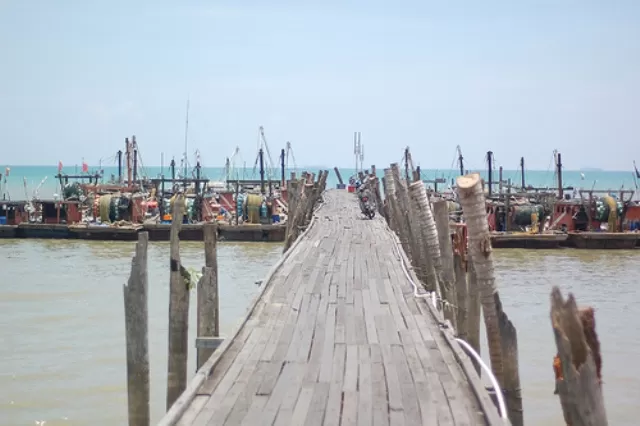 When in Malaysia you have to visit the state of Selangor for its natural charm, it's large scaled entertainment outlets and its amazing destinations that give you the best of nature. Selangor has many districts and you will definitely enjoy yourself as you tour around the outskirts of the capital city of Kuala Lumpur.
Head over to Tanjung Sepat; which is a small town in Kuala Langat district that is situated in Selangor. This humble fishing town is a unique and charming place to visit that allows you to feel like you have traveled back in time to where fishermen went out in their traditional boats to catch fish in the Straits of Malacca. Today, Tanjung Sepat is very well known locally because of the abundance of amazing seafood restaurants that dish out some of the best local seafood dishes and its magnificent scenery that is perfect for photographing.
The Tanjung Sepat town is a good place to spend a day, close to nature and discover the beauty of a small fishing town. The dragon fruit farm here is an amazing place to start. Walk along the pathway where you will be surrounded by large pink dragon fruit on your left and right. It is good to buy the fruits from here because they are much cheaper as compared to the prices elsewhere in Selangor. The fruits here are also fresher and much larger. The farm has both varieties of dragon fruit; the white and the bright pink and both are amazing, juicy and delicious; not to mention very good for your body. Don't forget to try out the dragon fruit juice while you are at it too!
Another highlight of visiting Tanjung Sepat is that you get the best pau's right here. The pau factory is an amazing place to visit to taste the best of these scrumptious, fluffy little meals. Watch how the workers wrap the pau's and how the pau is produced from a small batch of dough to a small round bundle of goodness. There are various types of pau's made here and you should try all of them. When you are done with the pau's you should head over to the restaurant located just opposite the factory. The coffee here is one of the best in this little fishing town and the restaurant is a great place to have a meal because they serve some of the best seafood dishes in the town. End your amazing day with watching the sun set at the beach nearby!
Recommended Area to Stay in Selangor
Sunway
Gateway to theme park, shopping malls, entertainments and eateries.
Bandar Utama/Kota Damansara
From budget inns to mid range and luxury hotel, perfect for shoppers and leisure travelers.
Batu Caves
Range of budget hotels and provide easy access to Batu Caves, Bukit Tinggi and Genting Highlands.
Sepang / KLIA Airport
Perfect for visitors on transit.