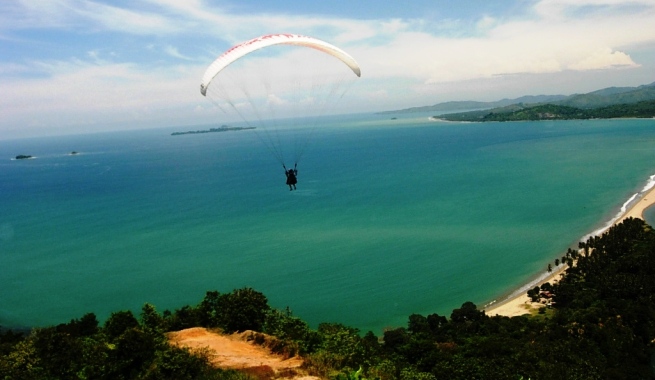 The Paragliding (Photo By: archive.indianexpress.com)
The 2nd FAI Asian Paragliding Accuracy Championship (FAPAC) is one of the agendas in the Federation Aeronautic Internationale (FAI) world Tour in 2014. As this event is organized by the Kinabalu Paragliding Club (Kelab Luncur Udara Kinabalu – KLUK), it will be held at the Lohan Hill in Ranau, Sabah. It is expected to have more competitors this year from other countries such as Hungary, Japan, Montenegro and so on. While gliding in the sky and enjoy the beautiful view of Sabah, this event will bring the top gliders from worldwide together to fight for the champion.
Event: FAI Asian Paragliding Accuracy Championship (FAPAC) 2014
Venue: Ranau Paragliding Park, Ranau, Sabah
Entrance: MYR 525 or MYR 1525 (for competitor)
Date: 12th March 2014 – 19th March 2014
For more information on the event registration fees, please refer: www.borneoparagliders.com/fapac2014.html
Recommended Area to Stay in Sabah:
Kota Kinabalu
From city's heritage exploration to islands escape, accommodation option in KK is countless.
Mount Kinabalu
For visitors looking to discover mother nature and access to the highest mountain in South East Asia.
Semporna
Gateway to the islands paradise (Mabul Island, Sipadan Island, Kapalai Island and more!).