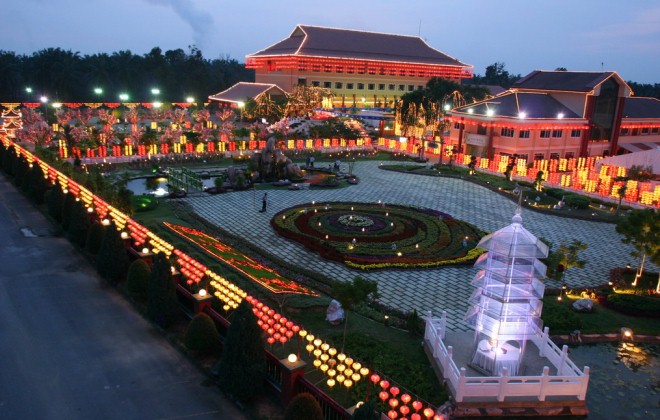 Fo Guang Shan Dong Zen Temple (佛光山东禅寺) is one of the many branches of Buddhist temple established by the Buddhist monk, Master Hsing Yun. The Fo Guang Shan sect of Buddhist teaching traces its roots to Taiwan, established since 1967. In Malaysia, it is located in the quiet and serene town of Jenjarom (or Jenjarum), completed in 1994.
The temple sits on 16 acres of land and spreads religious teachings of Buddha, and serves as a place to conducts many activities such as donation drive, festival gatherings and educational programmes. In fact, visitors may find this place to be a hub of other non-religious activities such as cultural shows, lantern paintings, costumer parades and photography contests. Visitors to the temple are often to offer prayers to Lord Buddha, but there are many visitors who come for its beautiful and grand architecture. Located within the temple are as usual a meditation hall, a lecture hall and a dining hall. At the main prayer hall seats a large Buddha Statue. Visitors will be captivated by the colourful flowers and trees, planted along walkways to enhance the beauty of the temple. Stroll along the Zen Garden for a moment of peace, or admire the complicated art of carving of the 18 statues of Arhats as well as 33 statues of Bodhisattva. The temple comes with an art gallery, in which displays Buddhist artifacts, relics and calligraphy works for visitors to appreciate the work of art. There is also a tea house for thirsty visitors to freshen up, as well as a souvenir shop for visitors to bring home a few mementos.
The grandeur in architecture, beautiful decoration and quiet location makes this temple a great place to achieve zen.
How to get there
Fo Guang Shan Dong Zen Temple is located along Jalan Sungai Buaya in Jenjarom of Selangor, about 1 hour drive from Kuala Lumpur city centre and about 30 minutes drive from Klang. Visitors are recommended to charter a taxi or by own car to reach the temple.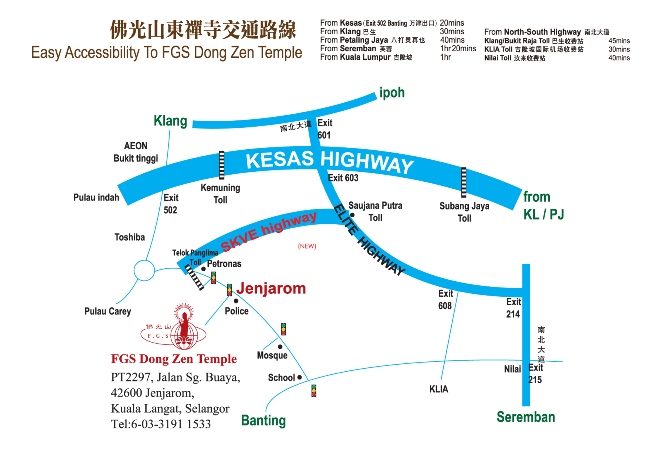 Map of Fo Guang Shan Dong Zen Temple
Opening hour and entrance fee
Fo Guang Shan Dong Zen Temple opens from 8am to 6pm everyday and opening hours are extended during festive seasons such as Chinese New Year and Mid Autumn Festival. Admission is free.
Recommended Area to Stay in Selangor
Sunway
Gateway to theme park, shopping malls, entertainments and eateries.
Bandar Utama/Kota Damansara
From budget inns to mid range and luxury hotel, perfect for shoppers and leisure travelers.
Batu Caves
Range of budget hotels and provide easy access to Batu Caves, Bukit Tinggi and Genting Highlands.
Sepang / KLIA Airport
Perfect for visitors on transit.